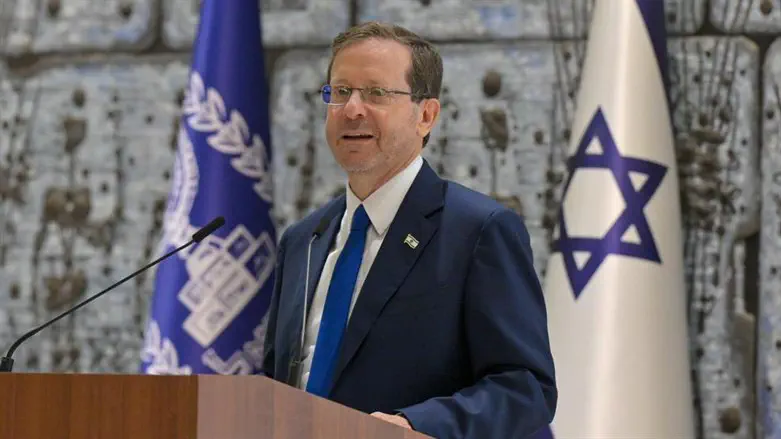 President Isaac Herzog
Kobi Gideon/GPO
President Isaac Herzog will depart on Wednesday, 25 January 2023, for a visit to the Kingdom of Belgium. The President will begin his visit at the Royal Palace of Brussels, where he will be received by His Majesty King Philippe of the Belgians, and the two leaders will hold a meeting.
President Herzog will then visit the Athénée Ganenou Jewish school and will meet pupils of all ages studying there. The President will then meet with the President of the European Commission, Ursula von der Leyen, and will visit the Great Synagogue of Europe in Brussels, where he will meet members of the Jewish communities of Brussels and Antwerp.
The following day, 26 January 2023, the President will visit the European Parliament at the invitation of the President of the European Parliament, Roberta Metsola, where he will deliver the main address in front of MEPs and Holocaust survivors at a special session on the occasion of International Holocaust Remembrance Day.
The President will then meet with NATO Secretary-General Jens Stoltenberg and representatives of NATO member-states, whom he will brief about Israel's strategic situation.
President Isaac Herzog: "This is an important and exceptional visit to the institutions of the European Union. Belgium is a close friend of Israel and I am sure that my meetings with the King and government officials will act as a catalyst for many collaborations with it. The rest of the visit, to the European Union, has special significance. Israel's relationship with the nations of Europe and the institutions of the European Union have an impact on almost every area of our lives as a people and as a state—from the economy to security, academia, science, culture, and so much more. My visit and meetings bring together the lessons of the past and a vision of a promising future of partnership between Israel and the nations of Europe.
"The centerpiece of the visit, at the event to mark International Holocaust Remembrance Day, where I shall address the European Parliament, fills me with a sense of sacred trepidation. We must never forget that the Holocaust, the darkest abyss in human history, grew out of the fertile soil of the antisemitism that had spread through Europe for generations and tragically is rearing its head in many forms in the present day. The historical responsibility borne by the whole family of nations—and the nations of Europe in particular—requires us to not only deepen our remembrance and commemoration but also to draw lessons, to educate, and to wage a persistent, determined, and most importantly common battle against antisemitism, racism, and xenophobia."