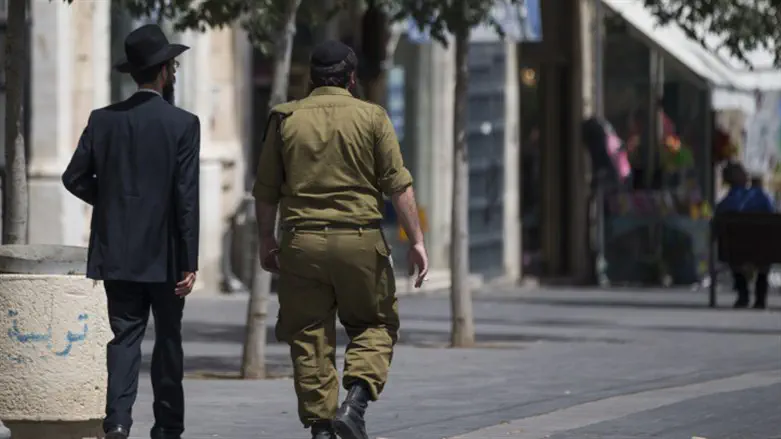 Haredi soldier in Jerusalem (illustration)
FLASH90
An IDF general defended the largely haredi Netzah Yehuda Battalion from complaints that certain soldiers in the battalion have behaved improperly.
"Incidents of improper conduct by haredi soldiers in the Netzah Yehuda Battalion are not unusual compared to other battalions. The fact that Netzah Yehuda is being repeatedly condemned – while emphasizing that they are haredi soldiers – indicates that there is an agenda behind this", said Maj. Gen. (res.) Nadav Padan in a closed meeting on haredi recruitment to the IDF held last Saturday at the Fremont Hotel in Austin, Texas.

Major General Padan, who until two and a half years ago served as General of Central Command and currently serves as the National Director of the Friends of the Israel Defense Forces (FIDF) in the USA, spoke at the annual conference of the Israeli-American Council (IAC). He was responding to a question from panel moderator, journalist Miri Michaeli, regarding recent condemnations in Israeli media of violence against Arabs by haredi soldiers.

"Does anyone know what battalion Elor Azaria was from?" Padan asked the crowd of participants at the closed meeting, comprised primarily of donors and senior members of the American Jewish community. Businessman David Hager, also a member of the panel, added that the media's attacks on this issue are slowing the integration of the haredi population into the IDF and setting the process back by years. Another panel member was Ms. Esti Salomon, founder of the Atida association that focuses on separate tracks for haredi women in the IDF's technological units.

This year, for the first time in the Israeli-American organization's history, participants at the annual conference were offered a 'Shabbat experience' with strictly kosher food and content adapted to Shabbat observers. Consequently, hundreds of haredi and religious Jews attended the conference. Participants included haredi judge Rachel Freier, who shared her journey to the top of the American legal world while maintaining her Hasidic identity and faith.