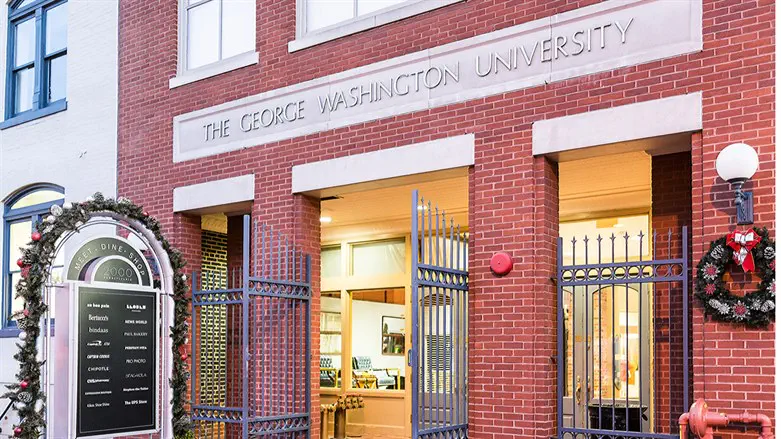 George Washington University Center
ISTOCK
George Washington University says it has opened an investigation into whether a psychology professor displayed antisemitic behavior in her interactions with Jewish and Israeli students, in the latest row over the state of Jewish life at the university in Washington, D.C.
The investigation was prompted by a federal complaint filed by the pro-Israel watchdog group StandWithUs, which quoted graduate psychology students alleging that they had been targeted last fall by their professor due to "their Jewish and Israeli identities."
The group's complaint, filed with the U.S. Department of Education's civil rights office, quotes the professor, Lara Sheehi, as having told an Israeli student on the first day, "It's not your fault you were born in Israel." It goes on to allege that Jewish students felt targeted by a guest speaker Sheehi had brought into class, Hebrew University of Jerusalem Professor Nadera Shalhoub-Kevorkian, for comments she made advocating throwing stones at Israelis as a form of resistance. When students brought their concerns to Sheehi, the complaint alleges, she accused them of Islamophobia.
Subsequent meetings with higher-ups at the university did not yield satisfactory results, the complaint said.
In a statement last week, GWU President Mark Wrighton said the university would be opening "an investigation by a third party" into the complaint's "claims of discrimination and retaliation against unnamed students in a GW course." A GWU spokesperson previously told the Forward that the university "strongly condemns antisemitism and hatred" and "also recognizes and supports academic freedom."
The Department of Education has yet to weigh in on whether it will open its own investigation, as it has with similar complaints of campus antisemitism in recent years.
The university, whose Hillel opened a new kosher cafe this week, has been the flashpoint of several incidents, putting a spotlight on Jewish student life in the past couple years. Groups posted anti-Zionist flyers near the campus Hillel and Jewish students rallied in 2021 after vandalism at a Jewish fraternity that included damage to a replica Torah.
But over the course of the 2021-2022 academic year, Jewish students across the political spectrum told the Forward they found claims of pervasive antisemitism on campus exaggerated. Some said they thought the frequent involvement of outside pro-Israel groups was counterproductive.
A graduate of the American University of Beirut, Sheehi is a professor of clinical psychology and the co-author of "Psychoanalysis Under Occupation: Practicing Resistance in Palestine." The incidents described in the StandWithUs report allegedly took place in Sheehi's required diversity training course for GWU's psychology graduate students.