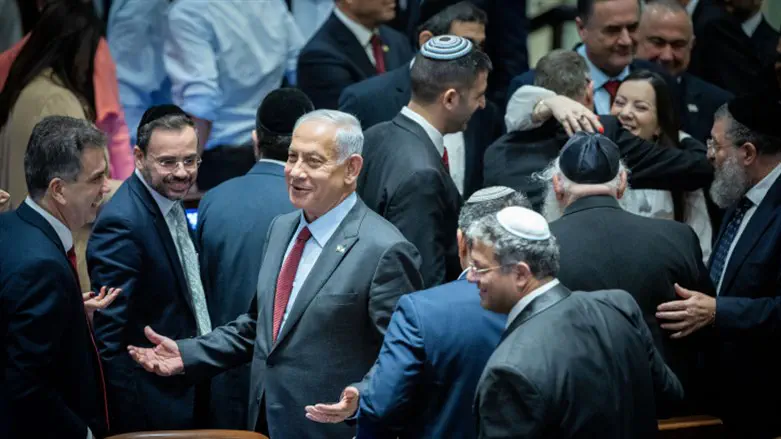 Benjamin Netanyahu with right-wing allies in the Knesset
Yonatan Sindel/Flash90
A British lobby group established by the Gaza-based Hamas terrorist organization is accusing more than two dozen Israeli lawmakers of racism, as part of a new propaganda campaign.
Last week, EuroPal, an organization established by the terrorist group Hamas, launched an international campaign against twenty-five ministers coalition MKs, accusing them of racism.
EuroPal stated that their campaign "will enable viewers to understand that likely policies, such as settlement expansion, enforced displacement, and annexation, should not be viewed in a vacuum but instead as the central modus operandi for the new Israeli Government."
The British organization, which was declared by then-Minister of Defense Benny Gantz as a terrorist organization in 2021, was founded by the Hamas terrorist group and is operated by Zaher Birawi, one of the leaders of the Muslim Brotherhood in Britain.
While the stated goal of the organization is the promotion of Palestinian human rights and assistance in Palestinian advocacy, the Israeli Defense Ministry has accused EuroPal of incitement against Israel as well as coordinated activities with Hamas.
In this instance, the organization has initiated an online campaign against twenty-five ministers and parliament members from parties in Israel's government, with the aim of portraying the new government as racist.
Among the Knesset members who are included in Hamas' campaign: Foreign Minister Eli Cohen, Science Minister Ofir Akunis, National Security Minister Itamar Ben Gvir, Transport Minister Miri Regev, Minister Meir Porush, MK Danny Danon, MK Zvika Fogel and MK Limor Son Har-Malech.
In addition, Ad Kan, an Israeli NGO, revealed Birawi's and Europal's connection to attempts to run Israel's security blockade of Gaza, as well as to Hamas' so-called "marches of return" in 2020, via undercover work.
Birawi and Europal's illicit activities were aired at the end of 2022, in the Israeli television series, "Shtula".
In the series Ad Kan, infiltrated Hamas' European propaganda operations, and reached its most prominent activists.
Birawi was defined by the Israeli security system as a senior Hamas official in Europe about a decade ago, since he operates a network of Muslim Brotherhood and Hamas-linked organizations working in Europe against Israel.
Despite this, Birawi remains a prominent public figure in the UK who hosts television shows and maintains close ties with English and European politicians.
"The organizations are mostly motivated by a progressive extreme leftist ideology or an Islamist ideology," Diaspora Minister and Social Equality Minister Amichai Shikli told Ma'ariv. "Together, these organizations form the Red-Green Alliance against the State of Israel and the Jewish people."
In a statement Monday afternoon, Ad Kan said the latest propaganda campaign exemplifies Hamas' increasingly sophisticated efforts to undermine Israel.
"Hamas is operating a campaign against Israel that combines military and civil combat. While military combat is engaged in by the security forces, the arena of civil combat is not adequately addressed. A Hamas campaign on European soil should be met with a decisive and painful response from the Israeli government to the countries and politicians in Europe, as well the emissaries of Hamas. Their attempt to harm the legitimacy of the existence of the State of Israel constitutes a security risk no less serious than firing missiles at civilians."