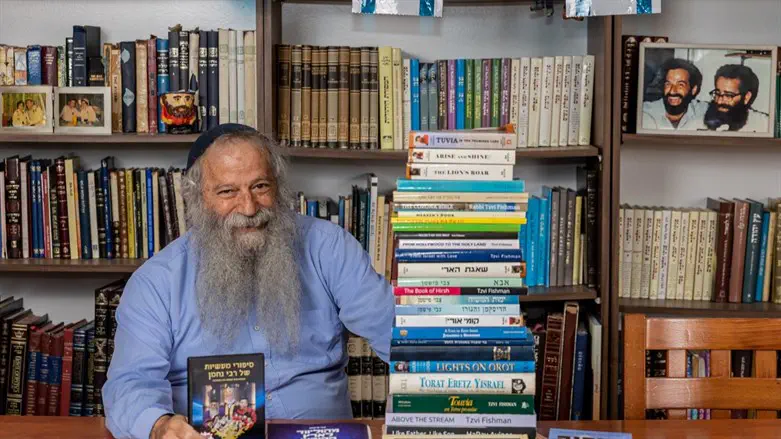 Tzvi Fishman and his books
Courtesy
Who cares what the writer David Grossman thinks? I don't understand why Arutz 7 bothered to report what he said during last night's demonstration against the Netanyahu government in Tel Aviv. David Grossman made a name for himself internationally by writing against Israel, against the Jews in Judea and Samaria and their communities, and against the political right.
Grossman made a name for himself by supporting a Palestinian State, by criticizing the IDF, and by eloquently justifying struggle against the "occupation." He may be able to string words together in Hebrew in a literary fashion, but his content is poison, filled with the liberal Jewish doctrines which champion everything non Jewish. The sad fact that Naftali Bennett awarded him an Israel Prize does not make Grossman an Israeli writer of worth. True, he is Israeli because he lives in Israel. But his Israel is a Jewish State without Torah. Why award a prize to such a writer? Why bother to report what he says?
One statement he said at the demonstration was true. "The State of Israel was established so that there would be one place in the world where the Jewish person and the Jewish people feel at home…."
But then he proceeded to attack the present government, declaring it was a terrible danger to democracy - even though an overwhelming majority of Jewish voters in Israel chose to bring it to power in a totally democratic election. Obviously, Grossman's definition of democracy, and the definition of democracy shared by the demonstrators at the protest in Tel Aviv and the leftist media in Israel, is what they believe in, period.
The opinion of the rightest majority is despicable and dangerous in their eyes. Only their opinions are valid. In my opinion, Grossman deserves a prize for chutzpah and hypocrisy, not for writing. But what do I know? I voted to Ben Gvir and Smotrich. I love the 'settlers' and the 'settlements'. I believe that Tzahal should crush the enemies of Israel. I believe that Arabs would be happier if they all agreed to be bused to Saudia.
It may never win me an Israel Prize for Literature and the adoration of assimilated Jews and the Gentile world, but what can I do? That's democracy.