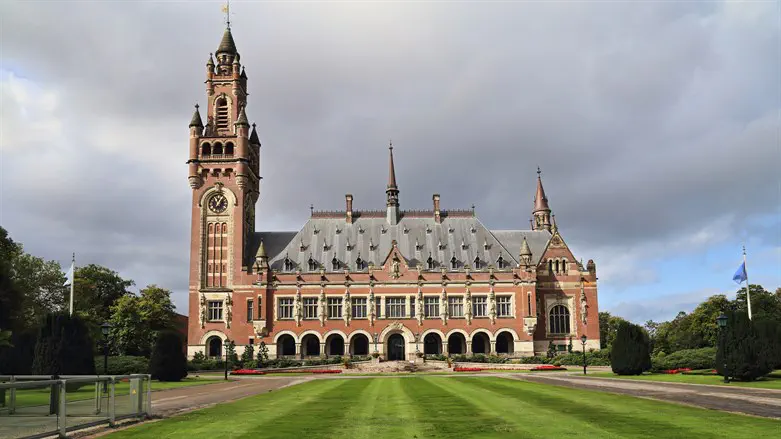 Peace Palace in The Hague which houses the International Court of Justice
iStock
The International Court of Justice (ICJ) on Friday confirmed it had officially received a request from the United Nations General Assembly to give an advisory opinion on the legal consequences of Israel's "occupation" of territories the Palestinian Authority (PA) claims ownership of, Reuters reported.
The 193-member General Assembly voted 87-26 with 53 abstentions on December 30 in favor of the resolution, which was promoted by the PA.
The ICJ is expected to draw up a list of states and organizations that will be able to file written statements, but the press release gave no further information about a timeline for that process, according to Reuters.
In previous advisory opinions the court also scheduled hearings but it is likely to take at least several months before they can be scheduled.
The Hague-based ICJ, also known as the World Court, is the top UN court dealing with disputes between states. Its rulings are binding, though the ICJ has no power to enforce them.
The resolution approved by the General Assembly asks the ICJ to give an advisory opinion on the legal consequences of Israel's "occupation, settlement and annexation ... including measures aimed at altering the demographic composition, character and status of the Holy City of Jerusalem, and from its adoption of related discriminatory legislation and measures."
It also asks the ICJ to advise on how those policies and practices "affect the legal status of the occupation" and what legal consequences arise for all countries and the United Nations from this status.
In response to the UN resolution, Israel announced a package of sanctions targeting the PA. The sanctions include a freeze on all Palestinian Arab construction in Area C of Judea and Samaria - including a crackdown on illegal construction - and the seizing of 139 million shekels of tax funds collected by Israel from PA workers on behalf of the PA. The money will be transferred to a fund for Israeli victims of Palestinian Arab terrorists.
Israel also said it would deny benefits to "VIPs who are leading the political and legal war against Israel." The PA's "foreign minister", Riad al-Malki, said last week that he was affected by this move and that Israel had rescinded his VIP travel permit.
Earlier this week, more than 90 countries expressed "deep concern" at Israel's punitive measures against the PA following the UN vote.
(Israel National News' North American desk is keeping you updated until the start of Shabbat in New York. The time posted automatically on all Israel National News articles, however, is Israeli time.)