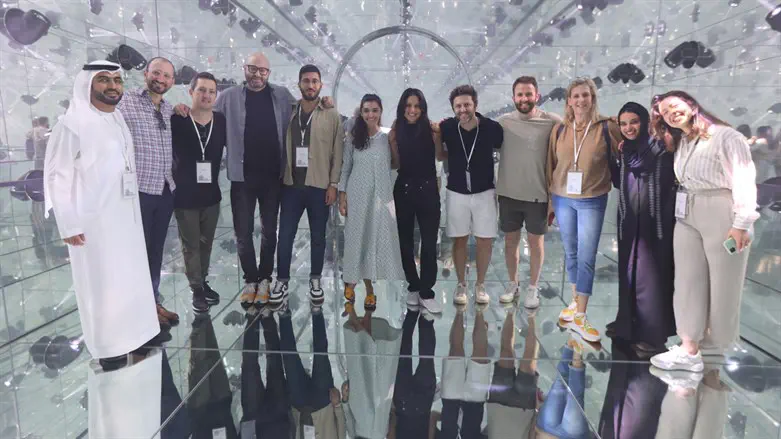 From the meeting in Dubai
Courtesy of Birthright Israel
Forty young, promising executives from the United States, Israel and the United Arab Emirates, ages 28 to 35, gathered here this past weekend through the T3 Leadership Program, which fosters strong personal and professional ties for young leaders in the Middle East, leading to hoped-for future collaboration.
Of the 40 participants, 10 each came from the United States (New York, Texas, Georgia and California) and the U.A.E. and 20 from Israel.
The American and Israeli participants belong to the Birthright Israel Excel community of international Jewish business leaders and Birthright Israel Young Executive Forum.
The UAE participants are members of UAE-IL Tech Zone community and UAE-Israel Innovation Office, which was established two years ago in collaboration with Start-Up Nation Center. Both UAE-Israel groups developed from the peace agreements, known as the Abraham Accords, that Israel, the U.A.E., Bahrain and Morocco signed in Washington, D.C., in 2020.
The T3 program was initiated by Birthright Israel Excel and the Young Executive Forum, in cooperation with the Aviram Foundation and UAE-IL Tech Zone. The program draws upon the knowledge and expertise of U.A.E., Israeli and Diaspora Jewish communities to cultivate leaders' intent on developing strong ties leading to collaboration - and to a new Middle East.
The weekend included the participants' meetings with U.A.E. businesspeople, with Israel's ambassador to the U.A.E., Amir Hayek, and with Israel's consul general in Dubai, Liron Zaslansky.
The program's launch in November included virtual workshops in which participants learned about each other's countries and cultures and discussed business opportunities in the region. They also learned how technology can help to shape a better future for the region and build bridges between people and countries.
"Members of the Birthright Israel Excel community from all over the world, as well as the members of the Birthright Young Executive Forum in Israel, are active every day as leaders in their professional arenas and in the wider Jewish community. When they connect with their counterparts from the U.A.E., we experience a sense of renewal and the opening of a new chapter in the story of the Abraham Accords," said Gidi Mark, CEO of Birthright Israel. "Such cooperation has tremendous strategic importance for the State of Israel, for the Middle East and for the entire Jewish people."
Ziv Aviram, the founder and president of the Aviram Foundation, the program's leading partner, said: "Through their business connections, young Americans, Israelis and Emiratis can create a significant impact, be a bridge of peace and create a better future in the Middle East. I am happy that the program exposed them to those possibilities. I'm certain that it has opened doors to partnerships for them and for their countrymen."
"The program aims to unite strong, young leaders to nurture long-lasting and sustainable relationships in the region through education, cultural exchange and diplomacy. These people will surely represent a success story for generations to come through their technological, business and cultural collaboration to address regional challenges," said Noa Gastfreund, co-founder of UAE-IL Tech Zone.
"The meetings were fascinating. Only then did I fully realize the great interest that Israel and the United States have in business opportunities in the Emirates," said Meitha Al Noori, the senior legal specialist at ADGM, one of the largest free trade zones in Abu Dhabi. "The privilege of meeting and interacting with such senior leaders was a first for me. They all spoke to us honestly about what they hope to achieve and the new business areas they are working on. Many friendships were made, and I'm sure they will be long-lasting."
"Beyond participants getting to know each other's cultures and being exposed to many opportunities, the program provides us with numerous tools for setting decision-making procedures leading to solutions," said Oz Reshef (Israel), Founder & CEO Pathos - stealth mode Startup, and a member of the Birthright Israel Excel community and Young Executive Forum. "It is about developing personal and professional skills, which I am sure will help the region throughout everyone's career".
Monica Sager (USA), Customer Success Strategy and Operations, LinkedIn: "First of all, we create a solid foundation based on mutual understanding. From there, we accumulate a lot of shared experiences. The Dubai gathering was a strong example of that. I see potential for strong friendships, future business partnerships and broad cooperation between our three countries.