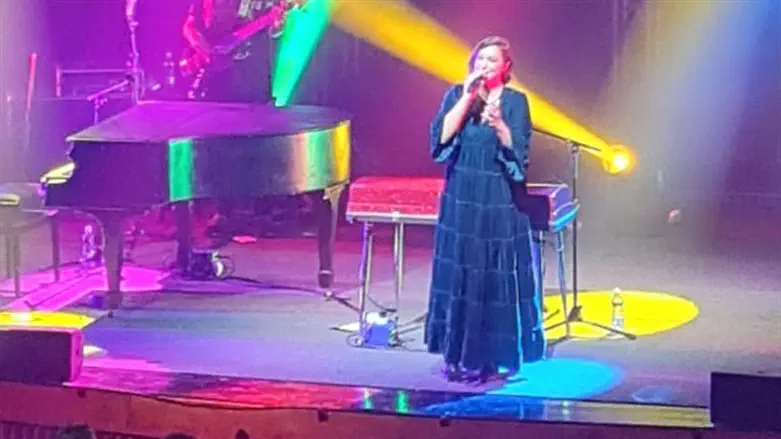 Keren Peles
Binyamin spokesman's office
Israeli singer Keren Peles returned thrilled, excited, and full of hope, from the performance she held yesterday (Monday) at the Culture Hall in Modi'in, as part of the "Warm Winter in Binyamin" events of the Mateh Binyamin Regional Council and the Binyamin Community Center.
Late at night, when she returned home at the end of the performance, Peles sat down to tell her followers on her Instagram page about the excitement and optimism that followed her performance in front of Binyamin's religious audience.
"I told the crowd that I came in a dress because I wasn't forced to put it on," Peles said. "They just explained to me who the population is, and, when they don't impose anything on me, when they respect me, I also respect them, and I want to be a part of the essence of the place I'm in with my music."
"The people who were there chose my show," she added. "They did a survey in Mateh Binyamin and chose me. I sang these words, 'only God will judge me,' I sang all my sins and they listened to the text, and I didn't skip a single word, sharp words. I stood and sang."
The performance in front of the religious audience raised her awareness. "I told them that when there is mutual, real listening, as is happening here now, there is no reason for us to fight over anything in life," she said through tears. "And they cheered and shouted out in songs you wouldn't believe."
"Write down this truth," she said. "To receive love is the biggest cry for hope and it was a moment of hope; eyes there sparkled. There were very religious women there, there were very religious men there, some looked at me and some looked at the guitarist, but they sat there. They chose to listen to my songs. There was no' them,' there was no 'them and us;' there is no such thing. How they scared me, saying that the song, 'Layla Echad b'April' would chase away the entire audience. The more I am true to myself, the more this happens and so, it was a moment of hope."
As part of the "Warm Winter in Binyamin" events, the artists Keren Peles, Elai Botner and the Outside Kids, Danny Robas, Yonatan Razel, Avihai Hollender, and David Broza performed, and the journalist Amit Segal and Dr. Micha Goodman gave lectures.
The head of the Binyamin Regional Council, Israel Gantz: "The residents of Binyamin get to enjoy enriching content in special events as part of the cultural revolution in the council that continues the momentum from last summer's events. In the 2023 budget, we doubled the culture budget so that the residents can enjoy the best shows in Israel and at prices for every pocket."