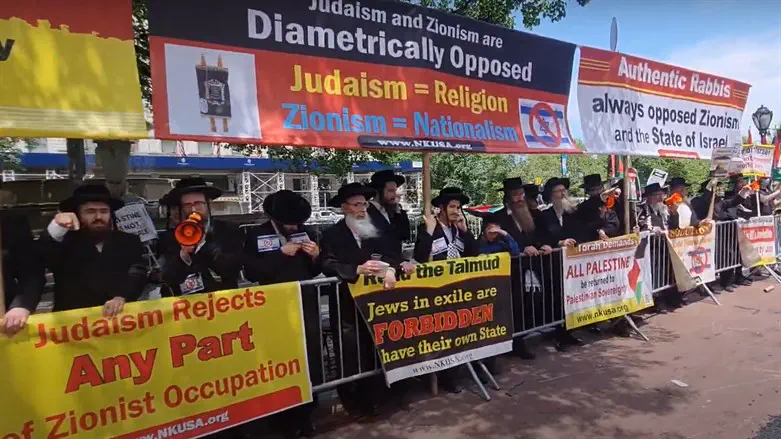 Neturei Karta
Yehonatan Gottleib
A second member of the radical Neturei Karta sect who visited the home of a leader of the Islamic Jihad terrorist organization in Jenin last week has been arrested. The arrest was made immediately upon his landing in Israel after his return from abroad.
Last Monday, a delegation from the radical sect visited Jenin and stayed in the home of Islamic Jihad leader Bassam al-Saadi. The delegation met several senior members of the terrorist organization and declared their support for the Palestinian cause.
They also met with Fatah secretary general Ata Abu Ramila.
A member of the delegation explained: "We are Palestinian Jews, we want to live under the Palestinian flag and not the Israeli flag, in one country, which is the Palestinian state."
Police arrested one of the three Neturei Karta members who met with terrorists from Islamic Jihad in Jenin last week on suspicion of supporting and identifying with a terrorist organization and illegally entering Area A of Judea and Samaria, which is under the control of the Palestinian Authority.
The suspect was released on Sunday under restrictive conditions after four days in detention.
Under the limited conditions, the extremist will be distanced from Judea and Samaria for 180 days, he will be forbidden from contacting any of those who were involved in the case for two months, and he will be obligated to pay a 5,000 NIS personal and 3rd party bail and a 1000 NIS cash deposit.