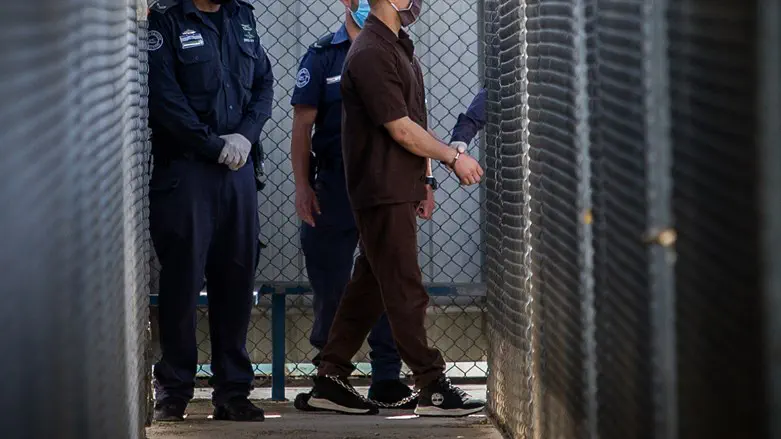 Ofer Military Court
Yonatan Sindel/Flash90
The Parents Against Child Detention and Mothers Against Violence organizations are planning to tour the Ofer Military Court, located next to the Ofer Prison, where over 1,000 terrorists are held.
The tour's sign-up sheet states: "For years, every night, an average of two [Arab] children are arrested in the West Bank [sic.] on accusations of rock throwing. They are questioned, tried, and sent to prison, sometimes for a long sentence. The tours will be accompanied by attorney Halil Zahar who represents minors in the military court and has worked for years on the Public Council Against Torture in Israel."
The original flyer for the tour states that it will take place in the prison itself, which holds Palestinian-Arab prisoners. However, the organization's directors told Israel National News that it will in fact only take place in the nearby military court, as no authorization had been received to tour the prison.
Parents Against Child Detention stated: "Parents Against Child Detention will continue to attend the Ofer Military Court to see with our own eyes how the court doesn't provide justice to Palestinian children in proceedings."
Katy Bar, the director of Mothers Against Violence, stated: "The visit is to the court at Ofer and not the Ofer Prison. Civilians can not visit the prison. The detention of children is the issue. Israel operates in violation of international conventions for the protection of children. The State of Israel operates in the occupied territories in violation of the law while claiming that the convention that it is subject to does not apply in the territories since they are not actually in the country. Children are children, not terrorists."
Shai Glick, the director of Betsalmo, commented: "I suggest that the far-left organizations tour the homes of Alexander Leblovitz, Dafna Meir, and others who were murdered by 'children.' Our military courts defend Israeli citizens from terrorists. Terrorists should be in jail or dead. It doesn't matter if they're 16 or 80."