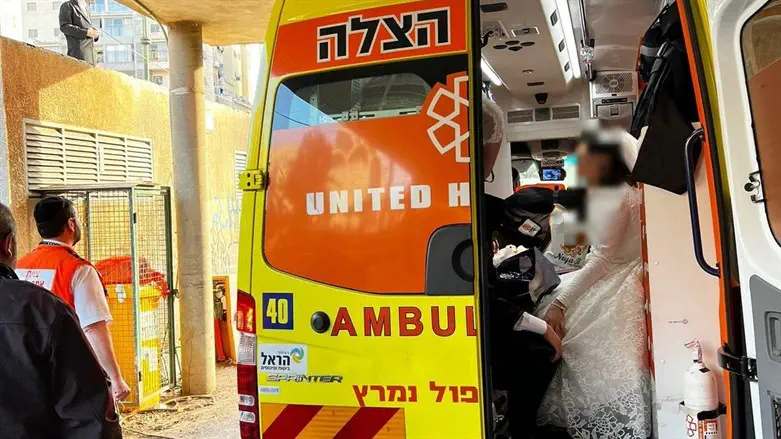 Bride arrives at her wedding in ambulance
United Hatzalah
On Wednesday, a bride who was scheduled get married this evening in Bnei Brak had no way of getting to her own wedding. She lives close to the city's cemetery and due to the funeral procession of Rabbi Shimon Baadani, to which tens of thousands of people came, the roads were all blocked. Knowing that United Hatzalah provided medical security for the funeral and its attendees, her family contacted the Chapter Head of UH in Bnei Brak, Effi Feldman, and asked for help. Effi immediately sent an ambulance, which had just finished its shift, over to pick up the bride and take her to the wedding hall, at no cost.
After the incident, Feldman recounted: "We were in the middle of the funeral itself with throngs of people walking through the streets when a young man came up to me and said: 'My sister is getting married and all of the roads are closed. We can't get a car through, not even a taxi. No one can take her to the wedding hall, and she can't walk to the hall, even though it is in the same city because it still was quite far and she would have to pass through the masses of people gathered for the procession.' I contacted United Hatzalah's dispatch and asked for permission to do the transport. I called one of the ambulances that had just finished its shift safeguarding the funeral and was being replaced by another, and I sent them, instead of going back to the station, to go pick up the bride and take her to the hall. It happened to be a mobile intensive care ambulance. The ambulance took them through the crowds and got her to the hall. The family was ecstatic that the wedding could now continue."
Feldman added," As soon as the ambulance had dropped off the bride at the hall which was located close to Highway 4, a serious car accident took place right nearby on the highway. The ambulance responded and transported the injured person, who was in serious condition, to the hospital for further care."