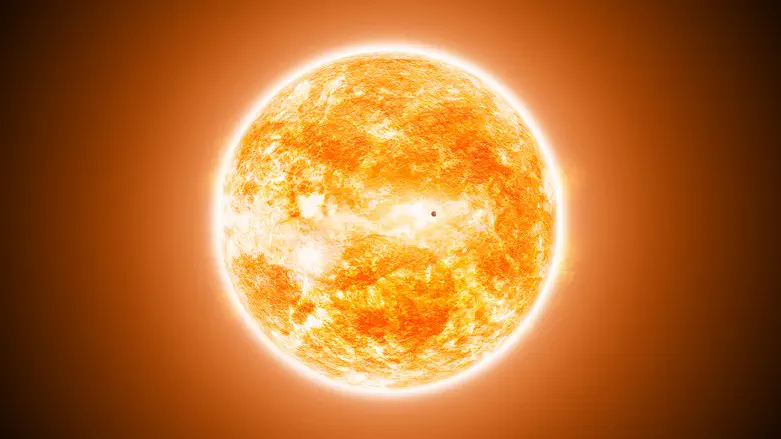 The Sun
iStock
"I'm going out to clean the pasture spring;
I'll only stop to rake the leaves away
(And wait to watch the water clear, I may)
I sha'n't be gone long. -You come too.
I'm going out to fetch the little calf
That's standing by the mother. It's so young,
It totters when she licks it with her tongue.
I sha'n't be gone long. - You come too."
(The Pasture, Robert Frost)

It is early morning. Time is enveloped in a soft hush, the stillness of awaiting, of a new beginning. Soft shades of peach and yellow set the sky aglow on an otherwise cloudy morning.
I go out onto the porch and sit down to enjoy a warm cup of coffee, hear the wind's soft whisper, feel the touch of morning's gentle sunshine.
In the corner, wedged behind the doorframe, a small, folded piece of paper catches my eye. Stark white against soft brown.

I reach over and carefully pull out the paper, unfold it with curiosity. A message of some kind? It appears to be but a price tag. I turn it over and read: "We are denim. Who are you?"
Who am I? The reader of the message. The thinker of the thought. The observer who sits here, at mornings' beckoning, as day presents itself in a golden hue. As life is renewed, as destiny unfolds. I watch as dawn blends into day, listen to life's reawakening. The whir of passing cars, the sigh of the wind, the song of the birds. Soon I will hear the happy chatter of children on their way to school.
Who am I? A question which does not have an answer. "What do you mean, what do you feel when you say the word I? I, myself. I don't think there can be any more fascinating preoccupation than that, because it's so mysterious; it's so elusive. Because what you are, in your inmost being, escapes your examination…" (Alan Watts,The Tao of Philosophy)
We read in Parshat Shemot:
"Moses was pasturing the flocks of Jethro, his father in law, the chief of Midian, and he led the flocks after the free pastureland…
An angel of the Lord appeared to him in a flame of fire from within the thorn bush, and behold, the thorn bush was burning with fire, but the thorn bush was not being consumed…
and God called to him from within the thorn bush, and He said, 'Moses, Moses!' And he said, 'Here am I (Hineni)' "
(Exodus 3:1-4)
Reminiscent of Akeidat Yitchak:
"And Abraham stretched forth his hand and took the knife, to slaughter his son. And an angel of God called to him from heaven and said, 'Abraham! Abraham!' And he said, 'Here am I' (Hineni)" (Genesis 22:10-11)
Abraham heard his name being called, twice. He looked upwards, his gaze redirected towards redemption.
We read of a similar encounter with Jacob:
"And God spoke unto Israel in the visions of the night, and said: 'Jacob, Jacob.' And he said: 'Here am I' (Hineni) " (Genesis 46:2)
God calls twice. Perhaps once for the physical self, once for the spiritual self. Once for earth, once for heaven. We are here, our gaze directed to this reality, toward our everyday activities, toward our earthly desires and struggles. We hear a voice, calling us to turn our gaze upwards, redirecting our eyes, our thoughts and dreams.
God calls twice. Perhaps once for the present, once for the future. Once from within, once from above. Once from within, once from without, until they are both the same and we cannot distinguish from where the voice is coming. The past meets the present, earth meets heaven, the inner voice realigns with the divine calling, and within us a voice answers, Hineni.
I am fully present, with my complete being. Here I am, in Your hands. Ready.
The question which may be asked in addition to "Who are you?", the question addressed in answer to God's call is apparently "Where Are You?"
Where are you, now? What is my role in this day which is unfolding? What is important to me? What are my values? What will be my contribution? Am I here?
It was just Yom Hakadish Haklali. The 10th of Tevet.
And soon it will be The International Holocaust Remembrance Day.
And so…Where are we? Where are we as a nation today, almost a century later? Are we living up to the legacy entrusted to us by those who perished? Are we fulfilling our Divine role as a Nation? Are we living up to our own expectations, to the challenge, to the call that we hear?
On Yom Kippur, we recite the Avodah service. We recall the service of the High Priest on Yom Kippur during the days of the Beit Hamikdash. He would pronounce the Holy Name of God, uttered only on Yom Kippur, and the people would prostrate themselves and respond: "Praised be His glorious sovereign Name for ever and ever."

At the dawn of Yom Kippur, the High Priest would dress in golden garments as various offerings were made. And before uttering the Holy Name, before making the holy offering of the sacrifices of atonement, he would don a garment of pure white linen.
And we? Are we denim, or something more? Cut of the cloth of majesty, of holiness.
On the High Holidays, the Hazan recites the prayer of Hineni. "Here I stand, impoverished in merit, trembling in the presence of the One who hears the prayers of Israel. Even though I am unfit and unworthy for the task, I come to represent Your people Israel and plead on their behalf…."
May we as individuals, may we as a Nation, be worthy of God's response to us. "Then you will call, and the Lord will answer; you will cry for help, and He will say: Here am I." (Isaiah 56:9)
My father (z'l) was a Holocaust survivor. We were his second family.
To this day, so many years later, I still hear him calmly say, as he always did on his way out to the garden "I'm going to catch some sun". He would sit quite still for a long time. A very long time. Peacefully alone in a lush expanse of green grass and towering trees. His face turned towards the glow of sunshine streaming into the glorious garden. A red cardinal would sing her song and my father would whistle in return. A magical, otherworldly duet.
There was also a squirrel, who was quite fond of my father, although for years they battled for rights to the juicy peaches on the peach tree. My father would give the squirrel peanuts. The squirrel devotedly following from a cautious distance.
And I, a child, marveled at the scene of simple tranquility and happiness.
,We yearn for a return to innocence. For memory to be transformed into knowledge that the world is a better place now for the lessons learned.
One day, perhaps we will hear a call. We will be asked to take our place in this world, in tranquility and beauty.
A simple call. Not for war, not for peace. Not for an end to violence and destruction, an end to hatred. Not to transform ourselves, and the world with us, into a better place. But an invitation to join the simple goodness of the human heart.
A call to hear the bells of the calves in pasture. A simple invitation, to be.
"Laugh, laugh at all my dreams!
What I dream shall yet come true!
Laugh at my belief in man,
At my belief in you.
And in the future I still believe
Though it be distant, come it will
When nations shall each others bless
And peace at last the earth shall fill."
(Shaul Tchernichovsky)