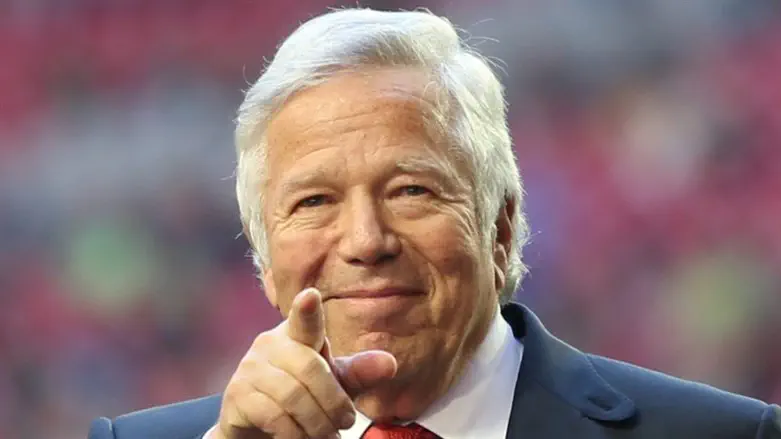 Robert Kraft
Courtesy of the New England Patriots/David Silverman
As the sports world continues to react to NFL player Damar Hamlin's sudden cardiac arrest during a game on Monday night, New England Patriots owner Robert Kraft is pitching into a fundraiser campaign — with a donation inspired by his Jewish identity.
Kraft and the Patriots donated $18,003 to an online fundraiser Hamlin had set up that has raised more than $6.3 million as of Wednesday afternoon.
The number 18 holds significance in Judaism — it means "chai," or life, and Jews often make charitable contributions in multiples of 18. Three is Hamlin's jersey number.
Hamlin, a 24-year-old safety who remains in critical condition at the University of Cincinnati Medical Center after collapsing on the field during the game between his Buffalo Bills and the Cincinnati Bengals, had previously set up a GoFundMe page to raise money for a holiday toy drive, with an initial goal of $2,500.
Since the incident, fans and fellow athletes have used Hamlin's GoFundMe to send financial support to Hamlin and his family.
"If you would like to show your support and contribute to Damar's community initiatives and his current fight, this is the place to do so," reads a note on the fundraiser page. "This is the only current fund that is being used by the Hamlin Family."
A number of athletes and teams have donated money, including NFL stars Tom Brady, Russell Wilson (and his wife, the singer Ciara) and Matthew Stafford. Kraft's donation is the second-highest of the fundraiser.
Kraft frequently donates to Jewish causes, and earlier this season he funded an advertisement urging NFL fans to "stand up against Jewish hate."
As the NFL grapples with its latest life-threatening injury, some Jewish fans are questioning whether their football fandom conflicts with their Jewish values. Rabbi Shai Held, president and dean of the modern non-denominational yeshiva Hadar, voiced his dilemma on his personal Facebook page.
"But maybe, just maybe, watching people physically quite literally destroy each other and themselves for entertainment is… something we should avoid," he wrote. "Morally as well as religiously."