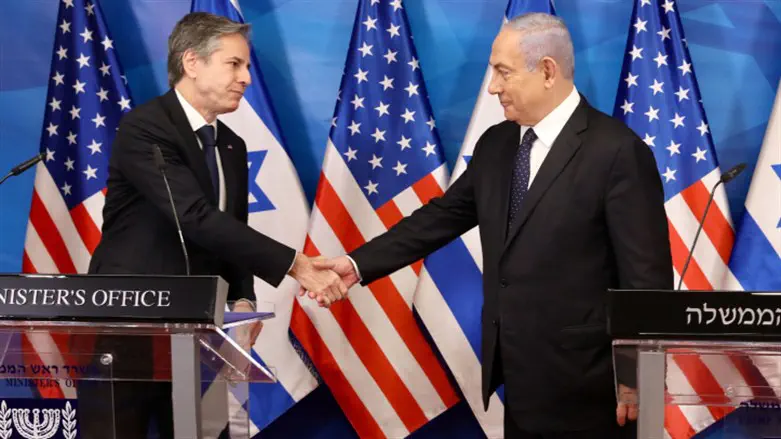 Antony Blinken meets Netanyahu
Marc Israel Sellem/POOL
US Secretary of State Antony Blinken is planning to visit Israel later this month, the first trip by a senior Biden administration official to the Jewish state since the establishment of the new Netanyahu government.
On Friday, National Security Advisor Jake Sullivan told NPR that he will also be travelling to Israel, though he did not specify the time frame for his visit nor confirm reports that his trip is slated for mid-January.
"I will be going to Israel," Sullivan said. "We're still working out the timing that works both for me and for my hosts in Israel. But I do intend to make a trip there."
Blinken's visit is expected to lay the groundwork for Netanyahu's first visit to Washington since his return as premier, a trip that is tentatively slated for next month.
Reports of planned visits by Blinken and Sullivan come amid increased tensions between Jerusalem and Washington, with the Biden administration chiding Israel over National Security Minister Itamar Ben-Gvir's visit to the Temple Mount last week, and warning Israel against deviating from the two-state solution.
US Deputy Ambassador to the United Nations Robert Wood said during an address to the UN Security Council that the White House expects Israel to maintain the status quo on the Temple Mount, and is opposed to "unilateral acts that exacerbate tensions or undermine the viability of a two-state solution."
"Secretary Blinken has said very clearly that it's absolutely critical for all sides to exercise restraint, refrain from provocative actions and rhetoric, at the Haram Al-Sharif/Temple Mount and other holy sites in Jerusalem, both in word and in practice. In this spirit, we oppose any and all unilateral actions that depart from the historic status quo, which are unacceptable."