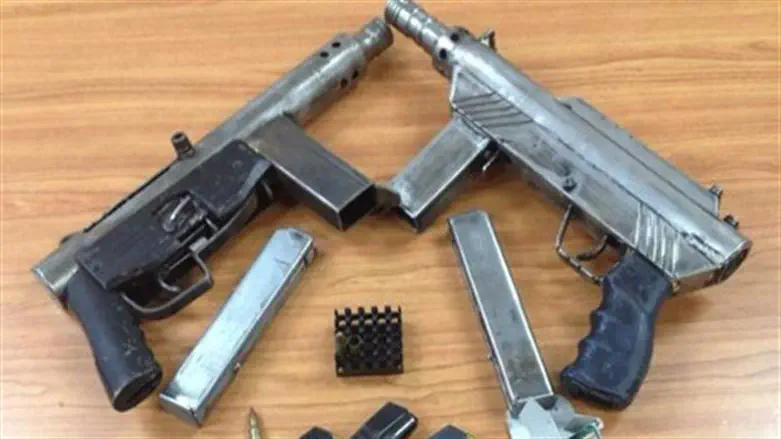 Illegal weapons cache
Police Spokesperson Unit
We have a big problem.

Israeli Arab Karim Younis received a hero's welcome when he returned this week to his hometown of Ara in the Haifa district, after completing his sentence for kidnapping and killing soldier Avraham Bromberg back in 1983.

And it was not just his Israeli Arab neighbors in Ara which took the position that the murder of an Israeli soldier was an act of heroism. Top leaders of the Israeli Arab public saw fit to welcome him home and praise him. (No one was surprised that Palestinian Authority figures used their VIP passes to cross the Green Line to visit him and Israel's Defense Minister promptly cancelled the passes.)

This Israeli Arab support for a terrorist who announced that he is willing to sacrifice more and is proud of what he didi cannot be dismissed as some kind of one time occurrence.

The Israeli Arab leadership has also chosen to embrace the Israeli Arabs who have been convicted by Israeli courts for intentionally assaulting Jews which these Israeli Arab thugs chose to attack in the May 2021 riots. Jews chosen at random solely because they were Jews.

So while on an individual basis we Jewish Israelis have fantastic relations with our Arab cousins, in the background there is this challenge that, as a collective, the Israeli Arabs appear to support armed struggle against the Jewish State.

Today the Israeli Arab communities are flooded with illegal weapons.

These weapons may someday, within the context of a broader event, serve to be an existential danger.

It is critical to remove these illegal weapons.

But we need to be realistic. The crime situation which Israeli Arabs face within their own communities is so grave that many of them have illegal weapons to protect themselves from other Arabs.

That is why Minister Itamar Ben-Gvir's plans to focus efforts on restoring law and order in Arab communities is not an exercise in altruism. Ben-Gvir understands that only when the normative Israeli Arab population no longer feels that their lives are in danger will it be possible to successfully complete the critical task of clearing out the illegal weapons.

If Ben-Gvir succeeds it will be a win-win.

The Israeli Arab communities will be liberated from the Israeli Arab criminals who have made their lives a nightmare.

And we won't have to lose sleep wondering how one day a mind boggling quantity of illegal weapons might be used against us.
Dr. Aaron Lernerheads IMRA - Independent Media Review and Analysis