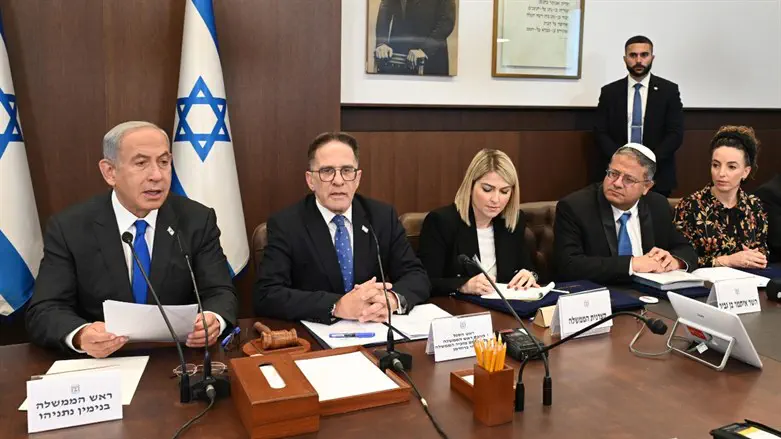 Netanyahu at Tuesday's cabinet meeting
Haim Zach, GPO
Israel's new right-wing government held its first cabinet meeting Tuesday.
In his opening remarks at the meeting, Prime Minister Benjamin Netanyahu placed curtailing Iran's nuclear aspirations and fighting Iran's military presence in Syria at the top of the agenda for his new government, while also vowing to fight the rising cost of living and to increase security and combat crime within Israel.
Netanyahu said his new government would increase pressure on the West not to return to the Iran nuclear deal in its current form, adding Israel will continue to confront Iranian forces in Syria.
"We are united on the security issue. We will work openly, from a position of strength, in the international arena against a return to the nuclear agreement, not only in talks with leaders behind closed doors but strongly and openly in the sphere of global opinion, which is now aware of the true dangers posed by Iran – the Iranian regime that is killing innocent citizens in and beyond Iran."
"Unfortunately, in contrast to the prevailing opinion that this dangerous nuclear opinion has disappeared from the agenda following the recent events in Iran, I think that this possibility has not yet finally disappeared from the agenda."
"Therefore, we will do everything to prevent the return to this bad agreement which is leading to a nuclear Iran under international auspices. We will also take vigorous action to prevent the Iranian military entrenchment in Syria and elsewhere and we will not wait."
Turning to public security and crime, the prime minister said his new coalition would move forward with reforms aimed at strengthening law enforcement.
"We are also united regarding the restoration of personal security and we received a clear mandate from the public to restore it. We will act aggressively against lawbreakers wherever they are in order to restore personal security to every Israeli citizen, Jews and Arabs alike."
"We are united regarding the strengthening of governance and we received a clear mandate from the public about this as well. To this end, we will introduce reforms that will increase governance and ensure the proper balance between the authorities."
Netanyahu also vowed to combat rising inflation rates and the increasing cost of living, promising "immediate emergency steps" to alleviate the hikes in gas, electricity, water, and consumer goods prices.
"We are united in the fight against the cost-of-living. We will take action to alleviate the situation for Israeli citizens who have absorbed steep price increases in the past year due to the combination of global inflation and the complete inaction of the outgoing government which did not even take minimal steps to alleviate and even prevent the situation that has occurred. Last night, I held a preliminary economic discussion with the Finance Minister, the Economy Minister and Prof. Avi Simhon about the immediate emergency steps that we will take on this matter in the coming days."
"We are united in expanding the circle of peace, which I am certain also unites every Israeli citizen. After achieving four historic peace agreements in four months, we are also determined to deepen the existing peace agreements with six Arab countries and add to them historic breakthroughs with additional Arab countries in the region."