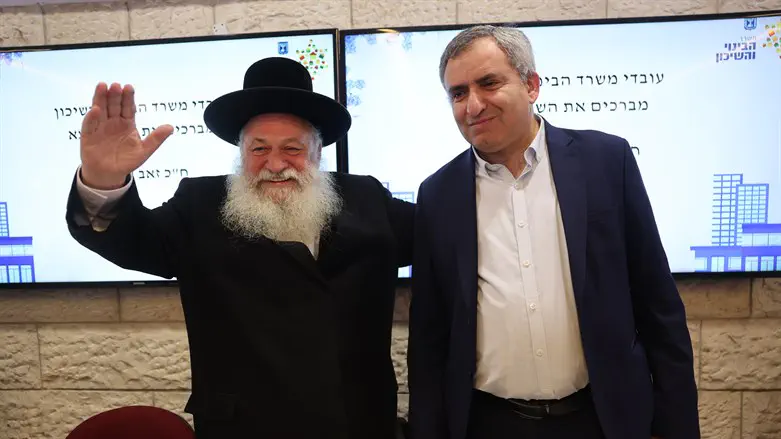 Ze'ev Elkin and Yitzhak Goldknopf
Yonatan Sindel/FLASH90
An exchange ceremony was held today (Sunday) at the Ministry of Construction and Housing between outgoing minister Ze'ev Elkin and Yitzhak Goldknopf of the United Torah Judaism Party.
At the ceremony, Goldknopf explained his statement that there is supposedly, "no housing crisis in Israel." In addition, he detailed plans for solving the said crisis, which would include building in Judea and Samaria and providing benefits to IDF veterans.
"Since the elections, a campaign of intimidation has been going on in parts of the media that also includes the housing sector," Goldknopf began. "We have declared in the past, and this is the appropriate time to state again: We are here to serve the citizens of Israel, promote the values of equality, and the resettlement of the land."
He later said that: "we have a special duty to discharged soldiers. It is unacceptable that those who dedicate the best years of their lives to the safety of the citizens of Israel will need financial assistance when it comes to buying a home."
Ze'ev Elkin and Yitzhak Goldknopf
Yonatan Sindel/FLASH90
"We have a duty to the young married men who learn Torah and who make do with what little they have, and in return only ask for a roof over their heads. We have a duty to all young couples from all sectors - regardless of religion, race or outlook. We will not single out any sector. The housing problem is common to everyone and with God's help we will help everyone."
Regarding construction in Judea and Samaria, Goldknopf promised to, "help our brothers who are settling in Judea and Samaria, and as I witnessed during my pre-election visits there, part of the solution to the housing crisis is found in these areas. Just as importantly, it is our duty to help settlers improve their personal safety which is a guarantee for continued residence and development in this part of the country."
Regarding his previous statement that, "there is no housing crisis in Israel," Goldknopf said that some time ago, he attended a conference and addressed the crisis. I mentioned the young people who live in parking lots and warehouses - as can be seen in many neighborhoods with haredi concentrations - "and I spoke about couples who live in housing units below ground level, but at the same conference, when I addressed the fact that I was entering the ministry without previous preconceptions, I said that I don't know about the housing crisis".
He explained that "of course, the intention was not that there is no crisis, but that I am new to the issue and therefore do not know enough about the reasons behind it. I hope and pray that with God's help and hard work, we will all be able to say at the end of the term that we [really] don't have a housing crisis to speak of."