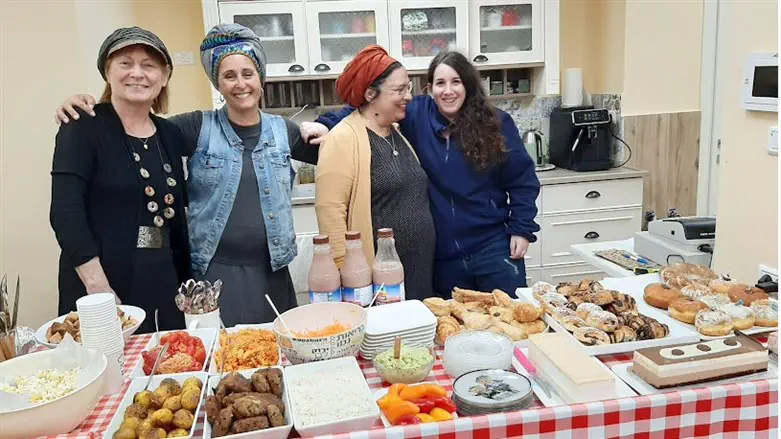 Tuesday at Menifa
Rochel Sylvetsky
A family in the Hevron Hills was attacked while driving on the roads and their son killed. Not long after that, the car was shot at again. Although, as to be expected, the whole family suffered from trauma, their teenage daughter A. was severely affected and began to suffer panic attacks which left her unable to function. The road to rehabilitation was a long one, but over time, she has been helped deal with what occurred - and, back to her old self, she has recently married.
Thirteen year old M., lived with her family in Jerusalem's Old City. While taking her younger siblings to see their mother who had given birth, they walked, as usual, on the Old City streets when an Arab visiting from northern Israel came towards them, grabbed a weapon from a security guard and began shooting at them. An Arab storekeeper pulled the two younger children into his store and hid them, saving their lives. M., who was unhurt, began to develop increasing signs of deep trauma as time passed and needed ongoing treatment away from home.
These are two stories. There are, sadly, many others, recurrent in the Jewish State for which so many have given their lives, and so many have had their lives shattered by loss.
But there are also young people who are challenged by mental health issues as are some of their peers elsewhere. Like S.
One morning, with no previous warning, S., a sweet and highly intelligent teenager, went into deep clinical depression and ceased her normal functioning. No one had any inkling that this might happen, but as her condition worsened, it was clear that she could not remain at home. Months later, after hospitalization in a psychiatric ward, S. was released to her home but was unable to accomplish even the simplest of tasks.
S.'s parents hoped she would be able to go back to school, to the people with whom she was raised, but it turned out that the road to her rehabilitation is a long one. Meanwhile, she stayed at home alone, was left to her own devices for months and her former school refused to allow her to return to the classroom. The family feared she would never return to her former self, that they had lost their lovely daughter forever.
These stories are a sample of the many young people who, I discovered, are treated at Menifa – Boost for Life, at the Czerna Center in Jerusalem, one of the few places in Israel that provides an answer for children, teens and young adults who are beginning a new life after psychiatric hospitalization.
The initiative is a pioneering one, after decades in which families and the educational system had no address in the community for young people to turn to after psychiatric hospitalization. The only help to be found was for those suffering from chronic mental illness, not those expected to recover. Menifa was established to prevent recurrence, to encourage a return to regular activities and achieve recovery, with its facilitators exuding faith in the strengths and power that exist in each young person despite the difficulties and crises that face them. The driving force behind the establishment of Menifa, Atia Dan, an indefatigable, ever-optimistic dynamo, managed to open a day center for young people and two rehabilitation spaces for psychiatrically challenged young women.
A visit to the Czerna Center, donated by the Irving I. Moskowitz Foundation in honor of Mrs. Czerna Moskowitz, longtime friend of Torah learning, educational and social needs in Israel, located in the tree-lined Beit Hakerem neighborhood in Jerusalem, adjacent to the WIZO building and reached by way of a winding path, was an enlightening as well as pleasant experience for me. The atmosphere is homelike, spotless, neat and calm and there is a concentrated effort to be part of the community, to contribute to it.
Menifa - things for sale
Rochel Sylvetsky
Here is one way that is done, in addition to a corner where pottery and other handiwork by the residents is for sale along with donated products including wine contributed for that purpose by a well known winery:
In the kitchen every Tuesday, varied dishes prepared by the young residents, all adding up to a wholesome, attractively presented meal, cover a buffet counter, set tables and chairs line one side of the room and residents of the neighborhood, adults and children, are invited to purchase a delicious and well balanced meal almost at cost.
If you live in Jerusalem or come to the capital for a visit that includes a Tuesday afternoon, try taking a cab (or the 5 or 50 bus) to 47 Hechalutz Street and enjoy a wholesome meal that makes these lovely smiling young girls feel like members of normative society. And they will be, G-d Willing, as so many of their predecessors are. (Note that I did not photograph the young adults who prepare and serve, except for one who wished to be in the photo).
My search to see what care the young relatives of terror victims received was spurred by the ramming attack suffered by two of my grandchildren, who, thank G-d, survived. Their teenage sibings and cousins did not witness the ramming, but the family felt they needed a professional venue where they could vent their feelings and we found a group setting they attended for several sessions. Only then I began to realize that there is a whole population of youngsters who have been through much worse. They have witnessed attacks, were unhurt, but suffer severe trauma and are in need of long term treatment.
The sad fact is that beyond the normal curve of mental ill-health in every country, the terror Israeli young people live with – those who suffer from it themselves, their classmates and siblings, those who experience fear of rock throwing on the roads – leaves an impression. Terror, in addition to the cost in loss of lives, adds many psychologically wounded victims to the number of young people, at a critical time of their lives, who find their ability to function impaired, who are in dire need of a place to recover peacefully with a guiding professional hand and someone to whom they can pour out their feelings.
When viewing all the challenges our young country faces, the wars, terror, political crises, foreign affairs, economic decisions and more, it is easy to see why young people whose lives were changed by terror (but who were not badly injured physically) might not receive the attention they desperately need,
Israel does a wonderful job of caring for those physically injured by terror and that is no small challenge. Menifa stepped in where Israel's strapped social services could not. It is heartwarming to see. After all, that is the Jewish way from time immemorial – as our Sages said in the Talmud, "all of Israel are responsible for one another."