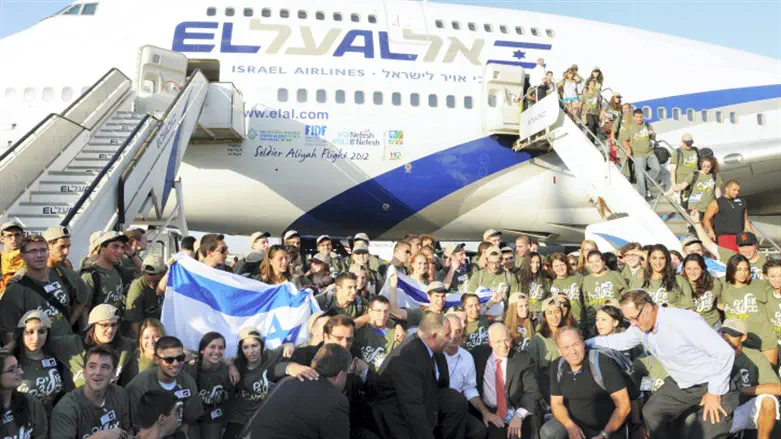 Olim arrive in Israel with Nefesh B'Nefesh
Flash 90
Nefesh B'Nefesh, in cooperation with Israel's Ministry of Aliyah and Integration, the Jewish Agency for Israel, Keren Kayemeth LeIsrael and JNF-USA, is projected to have welcomed to Israel 3,900 individuals in 2022. Some two hundred newcomers are expected to make Aliyah this week alone via group Aliyah flights as well as through the organization's dedicated "Guided Aliyah" track from within Israel, bringing the year to a wonderful close for Aliyah.
Among the newcomers who arrived with the aid of Nefesh B'Nefesh are 1,424 families, 907 children, 981 single men and women, and 697 retirees. The average age of Olim over the last year is 34 years old, with the oldest being 101 and the youngest a 3-month-old baby.
The Olim who arrived in Israel in 2022 hold a variety of occupations, the most prominent of which are in the fields of medicine (some 97 physicians made Aliyah in 2022), law, nursing, education, and finance. In addition, 214 young individuals who made Aliyah in 2022 will serve as lone soldiers in the IDF as part of the FIDF-Nefesh B'Nefesh Lone Soldiers Program or lone national service volunteers with the "Ori" Program.
As part of the Nefesh B'Nefesh "Go Beyond" initiative that is run in partnership with Keren Kayemeth LeIsrael (KKL) which encourages and supports Aliyah to Israel's peripheral regions and Jerusalem, 436 Olim settled in the Negev and the Galilee. Additionally, 1,100 made Jerusalem their home, positioning the capital city as the leading destination for Aliyah from North America. Other top destinations include Tel Aviv-Yafo, Beit Shemesh, Haifa, Netanya, Ra'anana and Afula.
Minister of Aliyah and Integration MK Pnina Tamano-Shata said: "Thanks to the fruitful cooperation between Nefesh B'Nefesh and the Ministry of Aliyah and Integration as well as additional Aliyah organizations, we are concluding an exceptional and blessed year of Aliyah, one of which has not been witnessed in many years. I thank Nefesh B'Nefesh for all their dedication to new immigrants from North America and for their continuous activity on behalf of these Olim, and in addition for their cooperation and willingness to assist with the Ukrainian newcomers.
I conclude my role as Minister of Aliyah and Integration by saying that Nefesh B'Nefesh is one of the most significant organizations in the field of immigration and absorption, which best embodies the values of Zionism and importance of the State of Israel, and for their steadfast commitment in helping fulfill the goals of the Israeli government in the field of immigration and absorption."
Chairman of The Jewish Agency, Maj. Gen. (Res.) Doron Almog: "The tens of thousands of new olim to Israel this year will help fortify the State of Israel as well as bolster its social and economic future. I thank Nefesh B'Nefesh and the Ministry of Aliyah and Integration for their deep commitment to North American Aliyah and for all their efforts in successfully integrating the newcomers into the country. The Jewish Agency for Israel will continue to work in partnership with Nefesh B'Nefesh, and together with the Ministry of Aliyah and Integration and additional Aliyah organizations, will continue to bring new olim from around the world and help them integrate into Israel."
"It is an incredible privilege for us to continue to assist thousands of Olim annually and watch them make valuable contributions and strengthen the country by building their new homes in Israel," said Rabbi Yehoshua Fass, Co-Founder and Executive Director of Nefesh B'Nefesh. "For the past 20 years, we have proudly served as the center for North American Jews on their journeys to Israel, and we will continue to accompany and support many more generations as they make their Zionist dreams a reality."
Additional milestones for the organization in 2022 included the launch of the Nefesh B'Nefesh Zionist Education Initiative (ZEI) which is educating thousands of students annually to strengthen their connection to Israel by fostering an in-depth dialogue about Zionism and its meaning in the modern world. This initiative further strengthens the support and guidance offered to Olim before, during and after their Aliyah. The ongoing assistance provided by Nefesh B'Nefesh has ensured that 90% of its Olim have remained in Israel, leading to tens of thousands of thriving and successful Olim who go on to make significant contributions to Israeli society.