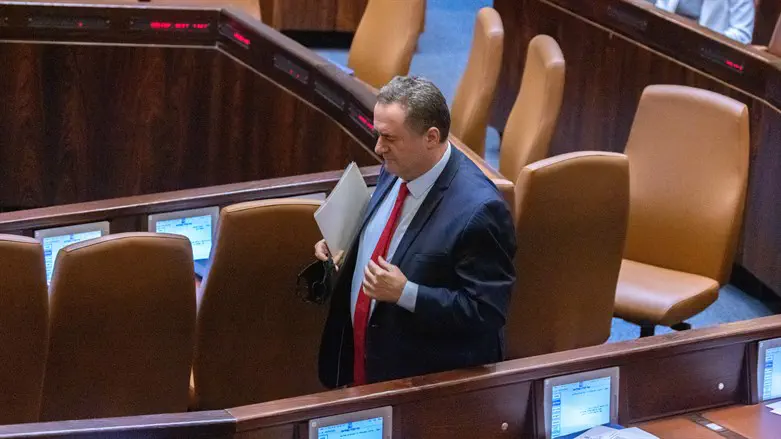 Yisrael Katz
Olivier Fitoussi/Flash 90
Senior Likud MK Yisrael Katz said in closed conversations, "I will not join the new government if I do not get a senior position", Kan 11 News reported on Tuesday.
Katz responded to the report and said, "That did not happen, [but] I intend to hold a senior position."
Meanwhile, it appears as though the division of ministerial portfolios in the new government will be as such: Aryeh Deri will receive the post of Deputy Prime Minister, along with the Interior Ministry with expanded powers. It is possible that Deri will also receive the Transportation Ministry, and his party will receive the Religious Services Ministry, the Negev and Galilee Ministry, and alternatively the Welfare or Health Ministries.
Religious Zionist Party chairman Bezalel Smotrich is highly likely to serve as the next Finance Minister. His party is also expected to receive the position of second minister in the Ministry of Defense, and the Ministry of Education or Ministry of Aliyah and Integration, alternatively.
Based on this division, Itamar Ben Gvir is likely to be appointed Minister of Public Security. His party will probably also receive the Agriculture and Heritage Ministries.
Yitzhak Goldknopf is expected to take over the Ministry of Housing. United Torah Judaism will also gain control in the Ministry of Jerusalem Affairs, and probably also in the Ministry of Social Equality. The party is also fighting for the Ministry of Transportation.
All of this leaves Likud with the Defense, Foreign, Justice, and perhaps Education and Transportation Ministries, in addition to smaller ministerial portfolios, and the position of Speaker of the Knesset. The internal battles for these remaining positions are already underway.