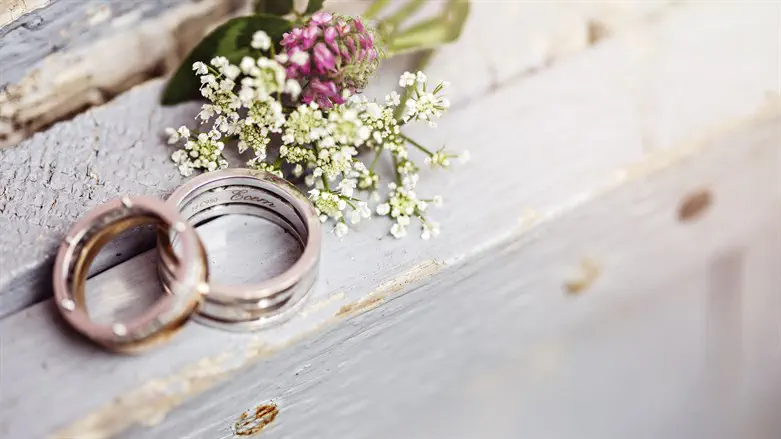 טבעות נישואים
צילום: ISTOCK
What exactly is marriage? That's a good question. Many couples are aware of the importance of marriage, but many couples do not know what it means to be married besides living together!
Living with your spouse may create many sweet couple stories, but maintaining a sweet long-term relationship can also be a challenge. According to Lifehack, in the US, only half of marriages can live happily ever after while the remaining half end in divorce. Especially during periods of severe personal hardship, or during a generally stressful global pandemic, when couples have more time to live together, the rising conflicts may break the sweet relationship.
Every couple is different. No one can give you a list of specific marital examinations at any time. Once you say, "I do," you start weaving your own marriage story. While there is no panacea, newlyweds can learn the secrets of successful marriage from couples who have "been there, done that." to help maintain a healthy and functioning relationship.
So get ready to read some tips for a successful marriage.
Do your part at home
Division of labor is essential for married couples. Share responsibility for keeping the room clean, watering the plants, setting up the refrigerator, and putting the meals on the table. Make a plan together and ignore traditional gender labels.
It's such simple advice for newlyweds to divide the labor in their new family. In our experience, it's easy to do and easy not to do. Assign tasks and check frequently to make sure both parties are doing their due diligence.
You can learn further by listening to a book or a podcast while working from home.
Do stuff together
Newlyweds can do more than just date night. Start a garden, go on a hiking trip, watch a show together, or host a family reunion with close friends. Partners develop love through shared experiences, and lovestruck couples engage in new, fascinating, and challenging activities together. Some of the most wonderful moments of intimacy come from the simple pleasure of cooking together or exercising, exchanging ideas in a joint reading, learning a new and challenging skill, sharing with each other, and bringing the relationship closer.
Learn how to resolve conflicts
Remember that your marriage is made up of two imperfect people. There will be conflict. You can't make a conflict go away, but you can learn to deal with it in a healthy way.
Everyone deals with conflict differently, so be sure to remember that your partner will deal with it not the same as you. You may be okay with it or you may find it frustrating, but communicate and keep an open mind anyway. Find a way for the two of you to work together effectively.
Such as holding hands during an argument or talking, or hugging your partner when you feel the conversation is progressing. It seems to let your partner know that you or he needs to take a break and calm down.
If you need sleep, let the conversation rest, go to a place where you feel safe with your spouse, and snuggle up for the night. Remember, don't go to bed angry.
Discuss finances
According to Budget Savvy Bride, money is the most common reason for arguments in the first three years of marriage. Therefore, it is very important to discuss finances in a new marriage because you will most likely have different spending habits. Maybe you're a saver and your partner is a spender. This is important because every purchase you make affects your partner. Discuss how much you can spend each month and stick to it. This probably should have been discussed before you got married, but if you haven't, do it now!
Create a couple's budget
Once you are married and living together, you will need to establish a monthly household budget. First, determine your joint monthly income. Next, make a list of your expenses, such as monthly bills, entertainment, mortgages, insurance, loans, and other debts. Once you've studied this list, cut out unnecessary expenses. Having a budget will give you a better idea of how much you need to earn each month and will help you tackle debt and avoid overspending. This is one of the most important tips for newlyweds when it comes to managing their money.
Saving and investing for your future life
The best financial advice for newlyweds is to start saving immediately. Due to the power of compound interest, time in the market is always the most influential.
If you invest $100,000 by age 30, you'll have about $1.5 million by age 65 (assuming an 8% return). Investing $100,000 by age 40 will only earn about $700,000 by age 65 (assuming an 8% return).
If you and your partner are all moonlight clans, you have to make some changes to increase your savings and learn to spend your money wisely. You can start saving with everyday shopping. Setting up a reasonable budget and planning to buy more online can help you save a lot of money. You can get discounts and money-saving tips from coupon sites like Honey, RetailMeNot, and CouponBirds. A good habit of spending and saving money will go a long way in your lives.
Always be gracious
A recent study from the University of California-Berkeley found that people who experience more gratitude in their relationships also feel closer to their partners and tend to engage in more constructive and positive behaviors. When one person is grateful, his partner naturally feels grateful and secure, which in turn increases commitment and satisfaction in the relationship. So chat with your mate on the phone, or double-check that the door is locked before bed. Say thank you! Say I love you! The health benefits of gratitude are really amazing and conducive to making couples more responsive to their partner and more likely to remain committed.
Don't let the romance die
Make time for it! No matter how busy your life is, it's important to maintain romance with your partner. When the honeymoon period starts to fade (and you'll notice), get creative! Surprise him/her with his/her favorite food, or plan a trip, anything to make your romance last. Don't forget to express yourself on holidays and anniversaries.
The first five years of marriage can be uncomfortable and beautiful at the same time. Whether you're a newlywed yourself or have a newlywed in your life, these tips can help newlyweds lay a solid foundation for the rest of their lives.