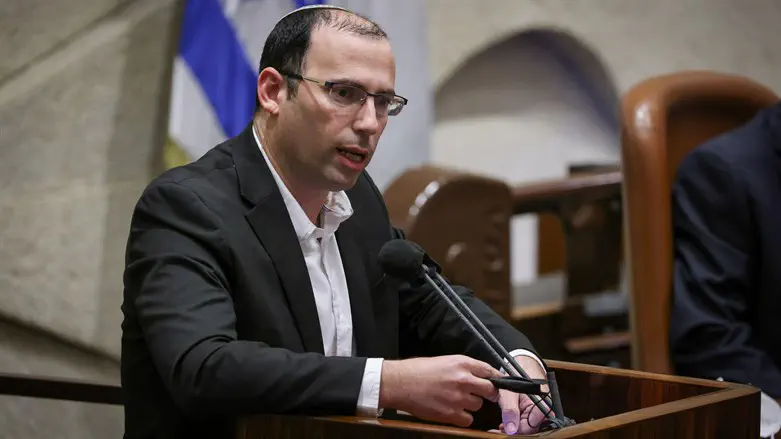 MK Simcha Rothman
Knesset spokesperson
As Olim from English-speaking countries, our challenges and gripes are different from native-born Israelis, and we must have our voice heard in Israel's elections.
Our biggest problems as new immigrants are in some ways like those of Israelis. The unrelenting bureaucracy, staggering tax rate, the supreme court's control through judicial activism, and the lack of oversight on corruption in Israel's police, Knesset, and court system frustrates many Israelis. The list of grievances continues to monopolies on banking, housing, the media, and many other fields which make Israelis feel like they are being controlled and taken advantage of.
To us, the issues that have to do with freedom, monopolies, taxation, the ease of doing business, and lack of transparency are amplified because of our backgrounds and values. We are used to certain standards and feel that Israel falls short on these issues. We understand that Israel is not a third world country anymore and are frustrated and disappointed that Israel still maintains its ineffective and outdated Socialist roots.
Simcha Rothman in a video to English speaking voters about the upcoming primaries for the Religious Zionist Party and how he plans to address the many challenges they face.
Moving to a new country, we leave our family, friends, culture, jobs, and language behind to a new set of challenges. Some of the questions an Oleh asks himself are, "Will I find a place to live that is comfortable for me, will my kids fit in and have friends, will my kids find a good school, will my kids have an identity crisis, will I find a job that I can support my family, will I be able to transfer over my profession, how can I afford the groceries or clothes here, I don't understand Hebrew, I don't know how to navigate Israel's complicated banking, medical, and tax system, I don't want to pay double taxation, will I find a community that I'll make friends in, etc."
These are just some of the challenges Olim undergo. It is not easy, but Olim are willing to pay the price to be in Israel and be part of the modern miracle that is the rebirth of our country and people.
Conversely, we believe Israel should and must be better.
The miracle of the Jewish People's return to the land of Israel from almost every country, society and culture on the globe is that each group of Olim brings the good and the bad from their previous countries. The Maharal of Prague in Netzach Yisrael and Rav Kook in Orot write that the Jews were exiled all over the world to bring back wisdom and experience to rebuild the Jewish people in a better way.
Although we are frustrated, we must have patience and understand that the good things we are bringing to Israel will be absorbed and it is our mission to help Israelis improve Israel. One of the ways to spread our word is by giving these issues a voice in Knesset.
Some 300 new immigrants from France arrive on a special "Aliyah Flight" organized by the Jewish Agency, at Ben-Gurion International Airport in central Israel, on July 23, 2018. Photo by Miriam Alster/Flash90.
We left our home countries waving Israeli flags with the dream of coming back to the eternal home of the Jewish people. Our ideology and commitment compel us to ensure Israel's safety and cultural heritage. To do this, we must ensure that the Religious Zionist Party, which firmly defends Israel's security, Jewish heritage and commitment to its religious roots has proper representation and strength.
In Israel's complex political landscape, the Religious Zionist Party proved its commitment to uphold Israel as a State true to its Jewish identity and character. In May, after last year's election, Netanyahu found himself without a clear right-wing coalition. In hopes of securing his position as Prime Minister, he tried to enlist Raam, the anti- Israel Arab Party, to join his coalition. Betzalel Smotrich and the Religious Zionist Party resisted and torpedoed the idea. They withstood all the pressure, temptation, and offers of positions, money and favors from the Likud and Netanyahu, displaying their enduring commitment to their core beliefs.
The Religious Zionist Party's primary will take place on August 23rd. The final day to register for the primaries is this Tuesday, August 2nd. The Religious Zionist Party is the only party that will not form a coalition with left wing progressive or anti-Israel Arab parties and will safeguard Israel as a safe country committed to traditional Zionist and Jewish principles.
MK SImcha Rothman meets Former Secretary of State Mike Pompeo at a conference in New York.
It is particularly important to ensure that MK Simcha Rothman is elected to Knesset in the next election. Simcha has connections and family in various English-speaking countries, pays taxes in Israel and the United States and is eager to pass legislation to make life easier for Olim. Simcha is a bullwork against Israeli bureaucracy and the Israel's court system. I will be voting for Simcha in the primaries on August 23rd and for the Religious Zionist Party slate in Israel's elections on October 1st , and urge you to do so as well.
To Register to vote in the primaries for the Religious Zionist Party click herehttps://bit.ly/Ziyonut2022!
Benjamin Sipznermanaged the Anglo division for the Religious Zionist Party in the last election, is an Oleh from New York, formerly a student at Yeshivat Bet El and is serving in the IDF as a lone soldier.