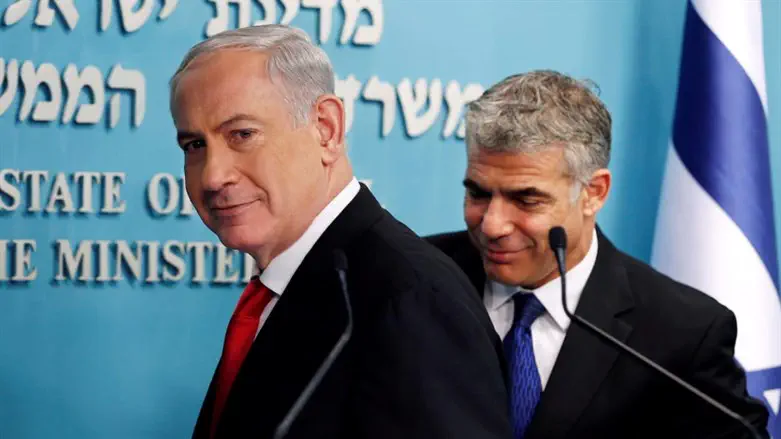 The next prime minister: Either Benjamin Netanyahu or Yair Lapid
REUTERS/Ronen Zvulun
A new poll by Panels Politics showed that if elections were held today, the Likud party would receive 35 seats.
The poll, conducted for Maariv's weekend paper, also showed that the new "Zionist Spirit" party, formed when Yamina and Derech Eretz joined, would pass the electoral threshold and receive four Knesset seats.
According to the poll, Likud would remain the largest party, with 35 seats, followed by Yesh Atid with 23 seats.
The joint Blue and White-New Hope list would win 11 seats, while Religious Zionism would win 10.
Sephardic-haredi Shas would win eight seats, while Ashkenazic-haredi United Torah Judaism would win six seats - provided it does not split. The Joint Arab List would also win six seats.
Bringing up the rear of the list are Yisrael Beytenu with five Knesset seats, and Zionist Spirit, Labor, the United Arab List (Ra'am), and Meretz with four Knesset seats each.
Both the Economic Party and the Jewish Home party fail to cross the electoral threshold.
Divided into blocs, the parties supporting former Prime Minister Benjamin Netanyahu's candidacy for premier would win 59 Knesset seats, while the parties which refuse to form a coalition with Likud unless he steps down would win 51 Knesset seats.
It is not clear which side the Zionist Spirit would join: If it joined a Likud-led coalition, it would bring the bloc above the minimum majority of 61 needed to form a government, while if it joined those opposing Netanyahu, that bloc would still be left six seats short of a government.
The Joint Arab List, with its six seats, is not expected to join either side, since it traditionally sits in the opposition.