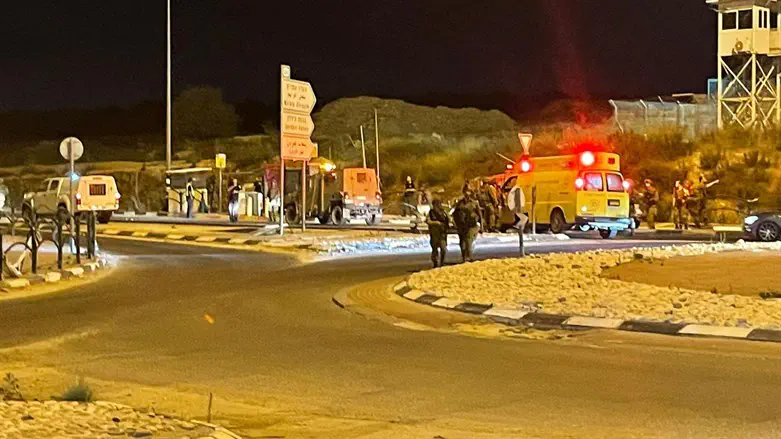 Tapuach Junction
Noam Rozenfeld/TPS
According to initial reports, an assailant armed with a knife advanced toward an IDF soldier at the Tapuach Junction, attempting to stab him as he conducted routine security inspections. The soldier reacted quickly by firing several warning shots in the air, after which the assailant was apprehended and transferred to security forces for questioning.
No soldiers were reported injured in the incident. Local security forces from the nearby town of Kfar Tapuah were asked to check the perimeter of the town as a precaution against possible accomplices. The Israel Police arrived shortly thereafter to collect evidence and statements. Volunteers from the Israel Dog Unit, a nonprofit with extensive experience in securing communities in Judea and Samaria, used an advanced UAV to secure the scene and search for other threats.
Knife used in the attempted attack
Israel Defense Forces
Head of the Samaria Regional Council, Yossi Dagan, responded to the attempted attack by congratulating the soldier.
"The entire nation of Israel salutes the IDF soldier [who thwarted the attack] and all the security forces of the Samaria Brigade," he said. "The bravery of the soldier [compensates for] the lack of deterrence and indecision of the government. This is a government that is trying to [restore ties] with arch-terrorist Mahmoud Abbas, who instigates, finances, and dispatches a majority of these attacks. This is a government that invites further attacks and undermines Israel's sense of safety and security."
"I call on the government to come to its senses and learn how to fight terror from the IDF soldiers [who prevented this tragedy]. This stuttering, ineffective government will be brought down," concluded Dagan.