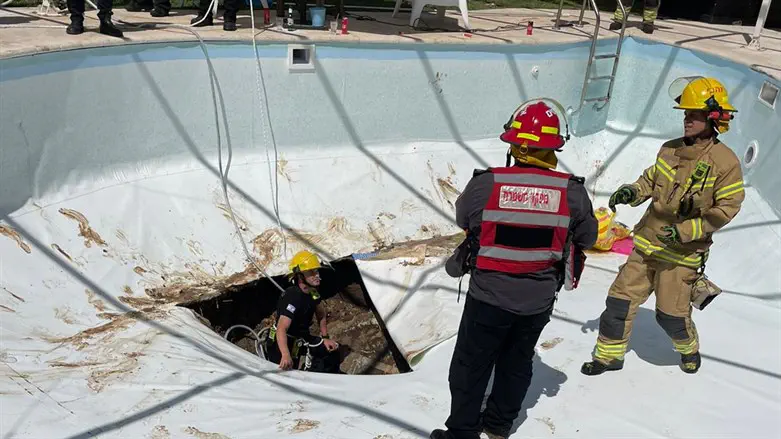 sinkhole in pool
Fire and Rescue Spokesperson
Four fire and rescue teams were called to a private home in Karmei Yosef in the Gezer Regional Council this afternoon, after a sinkhole opened at the bottom of a private pool in the backyard.
Magen David Adom forces called to the scene reported one missing person, and are treating a 34-year-old man who was rescued in a light condition with minor injuries to his body as well as ten people suffering anxiety from the incident. Authorities are searching for one person who is still missing. Firefighters and rescuers estimated that the rescue operations would continue for several more hours.
Lahav Shalom Davidovich, spokesman for the Ayalon Regional Fire and Rescue Service, said: '' At a pool party held in a private house in Larmei Yosef, a sinkhole opened under the pool, where there were two trapped people. One came out on his own, the other is still missing. Special rescue teams on their way to the scene. The teams are currently conducting searches, and there is a concern that there will be more sinkholes and ground collapses. "
Rescue teams are working to shore up the walls of the sinkhole in order to safely insert rescuers to extract those trapped inside.
MK Yuli Edelstein of the Likud commented on the incident: ' My heart goes out to those at the pool party. I pray for their safety and the success of the rescue teams."