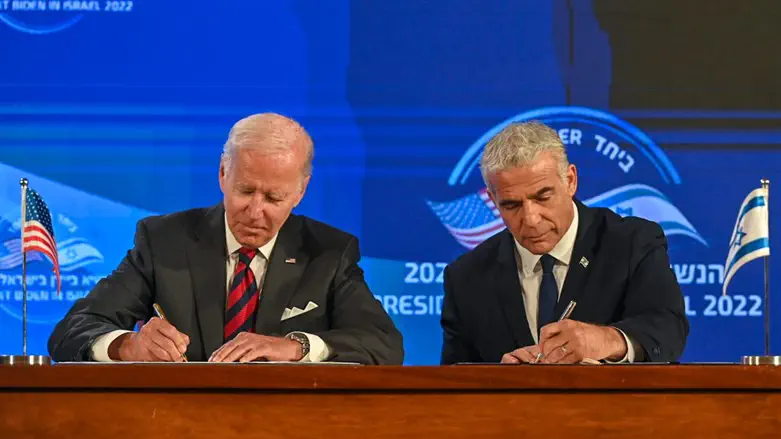 Biden and Lapid sign Jerusalem Declaration
צילום: קובי גדעון/ לע"מ
Following Thursday's meeting between US President Joe Biden and interim Prime Minister Yair Lapid, a senior Israeli diplomatic source told Israel National News that the tone of the meeting was extremely positive.
"It's no small matter when the president of a democratic state delivers such a clear statement regarding strategic partnership between our two countries in terms of our shared vision and values," the source said.
"We haven't had a declaration like this for decades in terms of its breadth and uniqueness. Following on support that has been somewhat less than bipartisan, this suggests a movement in the opposition direction. There are new things here, one of which is what was said - that an additional agreement of support between Israel and the United States will be necessary in the future, something that we haven't had in the past."
"On Iran, we saw a new development in the American commitment to use all possible means of containment. The President has not used such terms in the past."
"Regarding those who see the United States as withdrawing from the region, opening up possibilities for extremist elements -- I don't see that the US is leaving the Middle East."
"With regard to the BDS movement, the United States stressed that although its commitment to free speech, USA opposes the BDS movement, and that's important to counter those who argue that BDS is about free speech and should not be restricted."
"There was a long discussion of how to brand the declaration, and there was a question if the title 'Jerusalem Declaration' would be controversial. From what I can tell it was well received on the American side with no problem."
:You could say that from our perspective that this is the diplomatic equivalent of a love letter" the source concluded.