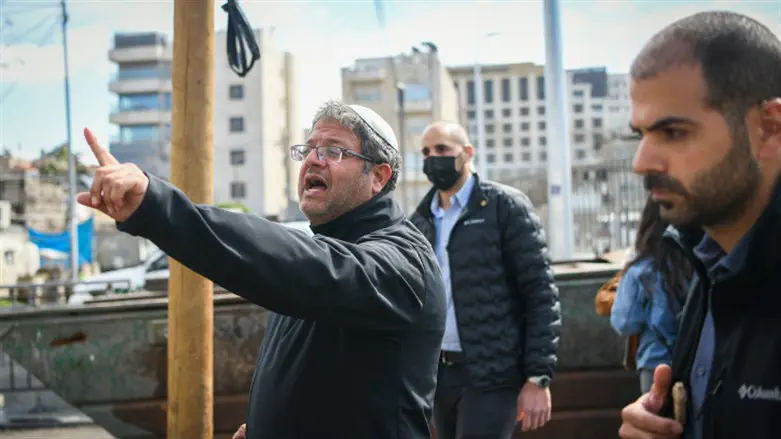 Itamar Ben Gvir
Aryeh Leib Avramos/Flash90
In an extensive interview that will be published in full tomorrow, Otzma Yehudit chairman, MK Itamar Ben-Gvir, told Yisrael Hayom that: "I am not ashamed to have taken part in the 'Kach' movement, but I no longer share in their views."
"Rabbi Kahane did very good things such as fighting for Soviet Jewry. True, Rabbi Kahane also talked about expelling all the Arabs, but I no longer entirely agree with him [on that issue]," he said.
Asked what he meant when he said that, "enemy Arabs should be encouraged to leave", Ben-Gvir replied: "People like Ayman Odeh, Ahmad Tibi, Walid Taha - I think they should be sent to Syria. Not all Arabs - those who oppose the State of Israel, who support the elimination of the State of Israel, should be expelled".
Ben-Gvir also said he has difficulty understanding the conduct of the haredi parties towards him.
"The haredi parties are shooting themselves in the foot," he insisted. Maybe they are afraid that if we gain more support, we will prevent a Benny Gantz-led government. I pray to G-d that Gafni listens to his supporters. The last thing they want is for him to go with Ganz. If you ask me, there is no such option as this would constitute a left-wing government. "
Asked if he trusts Gafni, he replied, "Unfortunately, Gafni is not where his voters are. Sources within United Torah Judaism constantly bring up Gantz and Lapid. I would not have invited Lapid to my family's wedding. They should put more focus on mending ties with the Right."