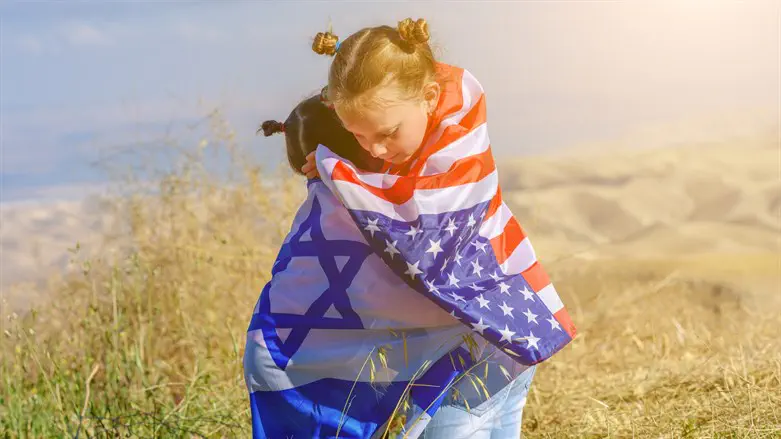 American and Israeli flags
iStock
As President Joe Biden embarks on his first visit to Israel as president, he does so against an amicable backdrop: A large majority of adults in both Israel (89%) and the United States (74%) think current bilateral relations are in good shape, a new Pew Research study has found.
More than half in each country also have a favorable view of the other country, though 83% of Israelis have positive views of the U.S. compared with just 55% of Americans who say the same about Israel. The Israeli survey took place from March 16 to May 1, 2022 – prior to the collapse of the governing coalition and Yair Lapid taking over as the interim prime minister.
Since Biden has taken office, Israeli confidence in the U.S. president has fallen, with 60% saying they have confidence in Biden to do the right thing regarding world affairs, down from 71% who said the same of Trump in 2019.
Israelis are also less likely to attach positive descriptions of "strong leader" (41%) and "charismatic" (27%) to Biden in 2022 than they were to describe Trump that way in 2017, but roughly equal shares of the Israeli public described both U.S. presidents as "well-qualified" and as "caring about ordinary people." Still, they are also much less likely to describe Biden as dangerous than they were to view Trump that way (21% for Biden vs. 42% for Trump).
Jewish Israelis are nearly twice as likely as Arab Israelis to say they have confidence in Biden (65% vs. 34%, respectively). But among Jewish religious subgroups, opinion varies markedly: About eight-in-ten secular Jews have confidence in Biden, compared with 58% of traditional Jews and half of Orthodox Jews.
In the U.S., views of Israel differ substantially across partisan lines and among age groups. Among Republicans and independents who lean toward the Republican Party, 71% have positive views of Israel, compared with 44% of Democrats and independents who lean toward the Democratic Party.
About two-thirds (69%) of those ages 65 and older and 60% of those ages 50 to 64 have positive views of Israel, while opinion among younger age groups is more mixed.
A majority (56%) of those under 30 have an unfavorable view of Israel. Younger Americans also stand out for expressing cooler views of the Israeli people – and warmer views of the Palestinian people – than older Americans.
Israelis are divided over whether Biden is striking the right balance between the Israelis and the Palestinian Authority: 31% of Israelis say he is favoring the Israelis too much, while 26% say he is favoring the Palestinian Authority too much and 34% think he is striking the right balance.
By and large, Americans seem to have little awareness of how Biden is managing the Israel-PA relationship: 62% say they are not sure whether he is favoring one side too much or finding the right balance (In the U.S., this was an explicit option for respondents; In Israel, that was not the case).
There is a particularly sharp divide in views of the U.S. between Israeli Jews and Arabs. About nine-in-ten Jews (93%) have a favorable view of the U.S., compared with just 38% of Arabs. A similarly large difference exists between those who identify as Jewish (93% favorable toward the U.S.) and Muslims (34%). Jewish religious groups, however, vary little in their opinions:
A majority of Israelis (55%) disapprove of Biden's plans to reopen the U.S. consulate in East Jerusalem, compared with 26% who approve.
More Israelis disapproved than approved of former Israeli Prime Minister Naftali Bennett's policies toward the U.S. More Israelis disapproved (47%) than approved (40%) of Bennett's policies toward the U.S. at the time of the survey.
Jewish Israelis were slightly more likely than Arab Israelis to approve of Bennett's handling of the relationship (42% vs. 31%). But there were also deep divisions within Israel's Jewish population: 65% of self-identified secular Jews applauded his U.S. policy, compared with 34% of traditional Jews and just 15% of the combined haredi and National Religious communities.
About three-quarters (77%) of those who supported Bennett's governing coalition said they approved of his policies, compared with 18% of those who did not support the parties then in power.
Israelis see boycotts as a threat to their country, but less so than many other issues.
Around half of Israelis think that economic and cultural boycotts of Israel are a major threat to the country – and an additional 36% consider such boycotts to be a minor threat.
But many more Israelis consider the spread of infectious diseases to be a major threat, and the same is true of cyberattacks from other countries.
Americans have little awareness of the boycott, divestment and sanctions (BDS) movement against Israel – one of the most prominent groups in the U.S. calling for boycotts of Israeli companies and sporting, cultural and academic institutions. Only 3% of Americans have heard "a lot" about BDS, and an additional 12% have heard "some," while 31% have not heard much and 53% have heard nothing at all about the movement. The vast majority of the public (84%) has not heard much, if anything, about BDS and therefore was not asked whether they support or oppose it.