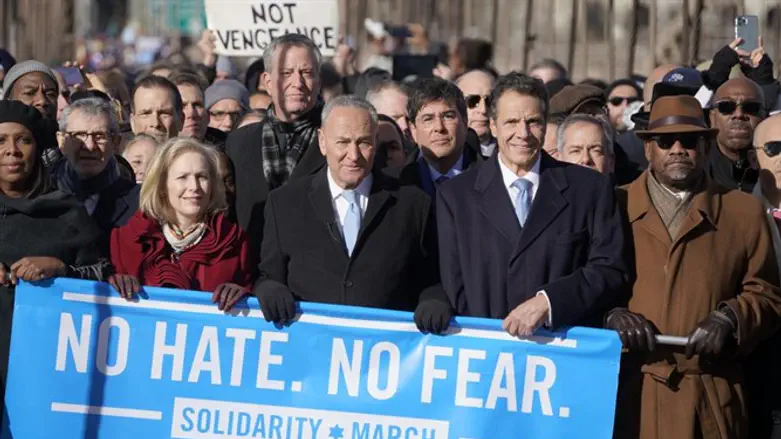 Bridge over troubled waters
Looking at the photographs of the Jewish demonstrators walking over the Brooklyn Bridge caused me to wonder, "Where are they walking to?" To the Crown Heights Graveyard? To the Williamsburg Graveyard? To the Jewish Graveyard in Boro Park? To the Lower East Side Cemetery? To the Diamond District Funeral Home? The Upper East Side Memorial Chapel?
Whichever way they cross the bridge, the Jews of America are going from one graveyard to the next. America was the Goldene Medina, it even has a statue lighting the way into New York with a poem by a Jewish writer, but those days are gone.
Statue of Liberty
Flash 90
The only chance of survival is to jump off the bridge into the East River and latch onto a steamer headed for Israel.
Sorry, fellas, but demonstrations won't save you. Civilian patrols won't save you. Security cameras and armed guards outside of shuls won't save you. The New York City Police and L.A. Swat Teams won't save you.
Not even President Trump can save you. You may hate him, but he's the only friend in America whom you have. And he won't be around forever. When the backlash comes, who then will save you?
Someone told me that the star of the movie, "Joker," Joaquin Phoenix, is Jewish. I suggest that he lead the next demonstration across the Bridge and march the rest of America's Jews along the Long Island Expressway to Kennedy Airport and a caravan of El Al flights to the real Promised Land. That is the only thing that will save them.
Let Simon and Garfunkel be Joaquin's minstrels, strumming on their guitars and singing, "You don't have to discuss much. Just get on the bus, Gus, and get yourself free." Leave your Gentile wives behind, boys, and get yourselves free. Free of the America Dream before the balloon explodes in your smiling faces.
With her heavenly soprano voice piercing the dark Manhattan pollution, Barbra will lead the elegantly-dressed ladies and Jewish princesses along the highway toward the airport while Steven films the great modern Exodus for his next blockbuster movie.
America's Rabbi Shmuley will hold up a sign reading, "JERUSALEM OR BUST!" followed by all of the reform rabbis who never made Aliyah, and the conservative rabbis who never made Aliyah, and the Orthodox rabbis who never made Aliyah. Chabad's 6000 shlichim will follow in the gevaldic parade, holding up posters reading "MASHIACH NOW!"
Next in the pilgrimage procession will be all of the famous Jewish actors, Federation presidents, and Op-Ed writers, carrying their suitcases in hand, followed by Ivanka and Jared riding in a golden coach. The last Jew in line will turn out the lights.
Goodbye, America! Goodbye Columbus! Yisgadal, v'yiskadash, sh'may rabbah….