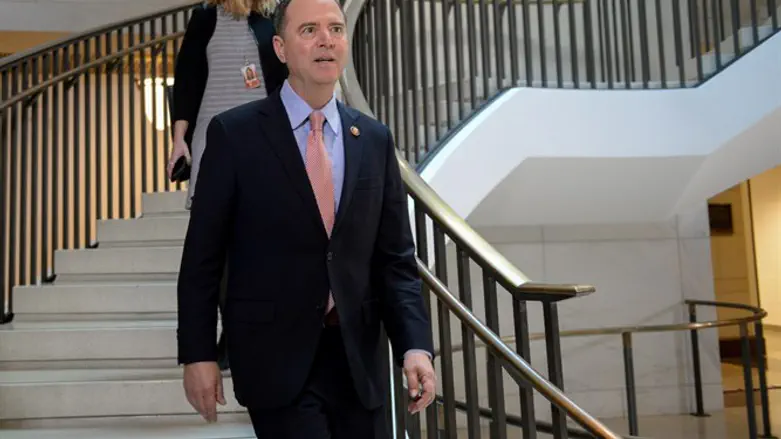 Schiff's meltdown and Fitzgerald's crack-up
All your plans are in ruins, people have let you down so often, so that finally you surrender and expect nothing from anybody.
You quit the world. Or is it that the world quit you? Either way, something snaps.  
It happens to the best, like F. Scott Fitzgerald, and to the worst, like Adam Schiff, this scoundrel whose vanity finally sunk him, but whose damage to the rest of us lives on. We knew him since Korach.
His damage to the rest of us lives on. We knew him since Korach.

In our day, we call it a meltdown. 
For Fitzgerald, it was "The Crack-up."
No question here that it was styled from King Solomon's "Ecclesiastes." 
Fitzgerald, in his Irish way, admired the Hebrew Scriptures as a work of the highest literature, and he learned from it generously, and although for Solomon G-d was always the answer, we don't know who was there for Fitzgerald to lift him up after he fell apart. No one, apparently, except for later on his Jewish girlfriend, Sheila Graham, and his Jewish secretary, Frances Kroll Ring.
But nothing really helped.
In that collection of essays that he wrote for Esquire magazine in 1936, the former Golden Boy of American Literature opened his heart to reveal a broken man. 
You do not need to be a writer know the feeling. Later, Arthur Miller would artfully describe the futility of a salesman whose best days are gone. Everybody knows Willy Loman…the uncle, or even a father, who kept trying, but kept failing, and the heartbreak watching him come home at night weary and empty-handed.
For Fitzgerald, success had come too soon… too soon, too young, to be handled properly. Then the Jazz Age, the 1920s, in which he had thrived, came to an abrupt stop, and nobody saw it coming, the crash that would take down the stock market and obliterate millions of jobs, lives and careers. 
It was Fitzgerald who remarked, "There are no second acts in American lives." Well, not for him.
O how they danced from New York to Paris, Champagne parties every night. The royalties kept coming from "This Side of Paradise," "The Beautiful and Damned" and "The Great Gatsby."
Followed by the 1930s, and the breadline entreaties…" Brother. Can you spare a dime?"
His books stopped selling. "Why," he lamented, "am I doing all this writing? No one is reading me." (Try this on being a writer.)
Did he lose his touch, or was it the country that lost its feel for his smooth as silk sentences? A new writer had come to town, and his sentences blazed with toughness.
That was Hemingway, and it was Hemingway who tried to stop Fitzgerald from publishing "The Crack-up." He saw it as a career-ending work of self-pity.
Buckle up and keep writing, he advised. That is our job and our only job. Desist from turning us into tragic figures.
Fitzgerald tried. New York wasn't biting. So he tried Hollywood. At first, he was greeted and feted as a New York Celebrity gone west.
That's how it happens for the first few months, but then, when screenplay after screenplay keeps failing, even for "Gone with the Wind," you become just another hack.
The tycoons kept telling him he's much admired, but the past was the past, and business is business. Even work on "additional dialogue" they denied him.
Then Zelda needed upkeep for her stays in the sanitariums. 
Where would the money come from, and where were the friends who used to call him pal? 
He returned to the novel. Monroe Stahr would be the hero of "The Last Tycoon," modelled affectionately after Jewish mega-producer Irving Thalberg. 
But it turned out to be his last book, and unfinished.
His lamentation in "The Crack-up" is itself a thing of beauty, the writing so natural and lean, but so stark as to impel you to look away. 
If it hurts to do the reading, imagine the writing.  
Finally, he writes, "I have now at last become a writer only." He would quit being a man in full, and if you needed a favor, he learned from the best, to say, "Sorry, I am not the person to see about that." He writes: "This is what I think now, that the natural state of the sentient adult is a qualified unhappiness."
Who can blame him? Some go on, some quit, in the face of futility from an uncaring world. 
It's no accident that in his lessons for Sheila Graham, he chose King Solomon's "Ecclesiastes" as at the top of all world literature.
Oh heck. This was supposed to be about Adam Schiff. Well, it still is. Because watching Schiff's tearful peroration as the curtain went down on his big public impeachment show, I saw a man so distraught at his failure to connect, so frustrated at being left without a sale, that clearly, here was a nasty man verging on a crack-up. 
Too bad it came after he did so much harm….and does he even know what I'm talking about?
New York-based bestselling American novelist Jack Engelhard writes regularly for Arutz Sheva.
He wrote the worldwide book-to-movie bestseller "Indecent Proposal," followed by his coming-of-age classics, "The Girls of Cincinnati," and, the Holocaust-to-Montreal memoir, "Escape from Mount Moriah," for which contemporaries have hailed him "The last Hemingway, a writer without peer, and the conscience of us all." Website: www.jackengelhard.com