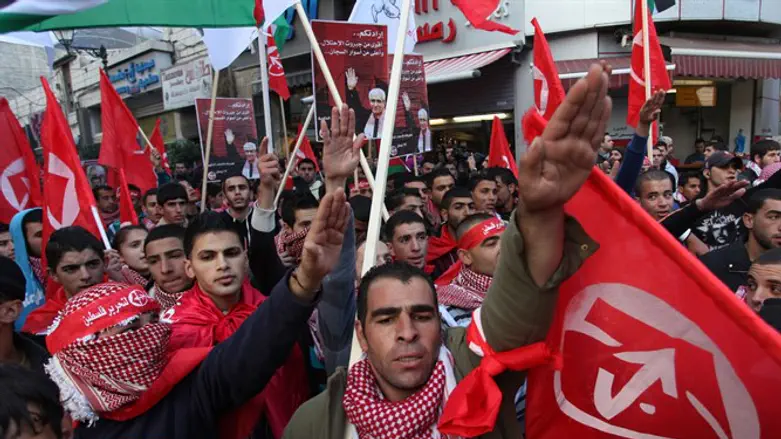 Exposé: Funding illegal PA settlement in Area C - terrorist links
For parts I and II, click here.
Hundreds of millions of euros flow annually from European nations to fund illegal Palestinian settlements in Area C. Under the Oslo Accords, only Israel can issue construction permits. The current rapid expansion plan dispenses with any coordination with Israel.
According to Israeli activist watchdog groups, such as Regavim, during the last five years, illegal Palestinian settlements and infrastructure have sprawled across more than 9,000 dunams (9 square km) in more than 250 Area C locations, supported by more than 600 kilometers of illegally constructed access roads and more than 112,000 meters of retaining walls and terracing. This massive works project is being conducted in broad daylight.
Palestinian Arabs no longer apply for permits in Area C; they deny Israel's right to issue them. Now, they just start building, powered by millions of annual euros in joint projects with the EU.
How is the money routed? Among the many NGO recipients, one name keeps appearing:Union of Agricultural Work Committees.
A 2012 French Foreign Ministry report listing a €354,489 multi-year water development project states: "The first action proposed under this Action Plan is being carried out by the Union of Agriculture Work Committees," adding, "UAWC … is responsible for project management."
Agence Francaise de Dévelopment (AFD) committed €130,000 to the UAWC, also in 2012, according to a 2012 Ernst and Young audit of the NGO Development Center. In February 2019, AFD also announced, "Union of Agricultural Workers Committees and relevant stakeholders … [would be] granted by AFD amounts up to 232,000 euros out of a budget of 650,000 euros."
In 2010, German governmental and foundation sources included the UAWC in a series of €630,000 Palestinian grants extended to anti-Israel boycott and activist groups, according to the 2010 annual report of the health rescue group Medico, which channeled the money.
Medico annual reports in 2012, 2015, 2016, and 2017 also list the UAWC as a recipient. An additional 2010 Medico grant of €180,000 euros funded UAWC in a program to assist "the fight against repression by the Israeli administration." The UAWC was also included in Medico's 2012 grantof €1.2 million euros to establish "kindergartens for unrecognized villages."
In 2016, Spanish governmental agencies extended grants totaling €184,000 to the UAWC, according to a 2016 official Spanish governmental bulletin.
In 2017, the Netherlands Representative Office in Ramallah announced an $11.2 million water project with the UAWC.
The UAWC's financial reports are hard to come by, but its 2014 total income reached more than $43.1 million. The group's income streams are diverse, from governmental units and foundations. Its key involvement in illegal Area C infrastructure is salient.
Yet, for decades, open allegations have been publicly aired alleging links between the UAWC and the Popular Front for the Liberation Palestine (PFLP). The PFLP is one of the most notorious of Palestinian terrorist groups, so designated for decades by the US, the European Union, and other nations. Yet, foundations and governments continue to robustly fund UAWC.
Accusations that the UAWC is directly linked to the PFLP are no secret.
In May 1993, USAID's Democratic Institutions Support Project "took a political economy lens" to popular movements in the Middle East, according to Prof. Glenn E. Robinson, who has frequently consulted for USAID. Back in the 1990s, Robinson's field work in the region included interviews with leading personalities of the UAWC and the PFLP. His report, Palestinian Institutional Configurations in the West Bank and Gaza, declared, "The PFLP's agricultural extension services are provided by the Union of Agricultural Work Committees (UAWC)."
That USAID report became the basis for a book titled Building a Palestinian State—the Incomplete Revolution, published by Indiana University Press. The Middle East Studies Association's book review lauded it: "powerful and compelling … scholarship impeccable."
Contacted at the prestigious Naval Postgraduate School in Monterrey, California, Robinson recalled that his research showed the UAWC was indeed "linked and affiliated" and also "shared resources with" the PFLP. USAID still distributes Robinson's original report online.
A 2012 Fateh organizational chart at www.FatehOrg.ps purports to list all PFLP units. It includes an entry for the UAWC, under "Affiliated Institutions." The web page has since been deleted but an Internet Archive has preserved it. A translation from Arabic to English of the purported key listing midway down the document can be seen here. The words "Popular Front for the Liberation of Palestine" can be located in Arabic in the middle of the document as a subhead just above the date "11/12/1967."
Robinson examined the archived page, and confirmed, "Each of the main four factions in the 1980s had essentially the same list of linked groups and competed with each other as part of the broad political mobilization of Palestinian society."
Attorney Andrew Hamilton:"Based on my extensive research since 2012, it is quite clear that the UAWC is an arm of the proscribed terrorist group, the PFLP."

Former senior PFLP leader Bashir Kairi functioned as UAWC's president for years. He signed the UAWC's annual reports until about 2009. As far back as 2003, CNN reported that Kairi had been arrested as a key figure in Israel after a major assassination, stating, "Palestinian sources said those arrested included Bashir al-Khairi, head of the PFLP political bureau."

In 2012, UAWC was prominently accused of terrorist links to the PFLP by Shurat HaDin, an Israeli legal group. Shurat HaDin demanded that World Vision and the Australian government cease funding UAWC. Australian authorities and World Vision refused.

In July 2018, Amnesty International issued an "Urgent Action" notice, which begins, "Abdul Razeq Farraj, Finance and Administration Director at the Union of Agricultural Work Committees … was released from Ofer prison."

The statement described Farraj as "the Finance and Administration Director at the Union of Agricultural Work Committees … for more than 30 years." The next paragraph adds, "In addition, he has served a six-year sentence in an Israeli prison after being convicted of affiliation with the Popular Front for the Liberation of Palestine."

Farraj appended a personal statement to the public notice, "I would like to express my deep gratitude, for your continuous support to the Palestinian people and to UAWC." Farraj's current LinkedIn self-lists him as "UAWC administrative manager." His listing at the Addameer prisoner support organization's website indicates Farraj has repeatedly been in prison on terrorism charges, yet also "Director of Finance & Administration at Union of Agricultural Work Committees."

In 2017, Israel's Shin Bet security service notified the UAWC, "The information we have indicates that the organization 'Union of Agricultural Work Committees,' based in the Gaza Strip, operates under the auspices of the People's Front for the Liberation of Palestine," according to a copy of the confidential security document obtained.

Over recent years, articles publicly accusing or reporting on UAWC's alleged terrorist links have periodically appeared in the JNS news service, and Times of Israel, Jewish Press, and Jerusalem Post. NGO Monitor, which tracks anti-Israel NGO misconduct, maintains a page filled with links, recently updated and confirmed, documenting UAWC's connection to the PFLP.

"It's clear from the evidence that the UAWC is closely linked with the PFLP," concludes Caroline Turner, director of UK Lawyers for Israel, who has studied the UAWC. Yifa Segal, director of The International Legal Forum, active in litigation involving UAWC, asserts, "I would say that it's an inherent part of the PFLP—that doesn't mean that they are the same legal entity, or that each organization doesn't have its own leadership."

Attorney Andrew Hamilton, who has also filed legal actions involving UAWC, comments, "Based on my extensive research since 2012, it is quite clear that the UAWC is an arm of the proscribed terrorist group, the PFLP," continuing, "It is controlled by and acts in the interests of the PFLP."

Despite, the growing body of public information about the UAWC and the PFLP, there is no indication that any of its donors intend to reduce the millions they are sending the UAWC for illegal development projects in Area C.

The UAWC and its defenders have repeatedly claimed that it has no ties to the PFLP. Repeated documented efforts to reach the UAWC and its leaders, including Bashir Kairi and Abdul Razeq Farraj, as well as the PFLP, for comment were unsuccessful.

Edwin Black is the award-winning New York Times bestselling author of IBM and the Holocaust, Funding Hate, and the journalist who in Financing the Flames documented the terrorist salaries now known as "Pay to Slay."