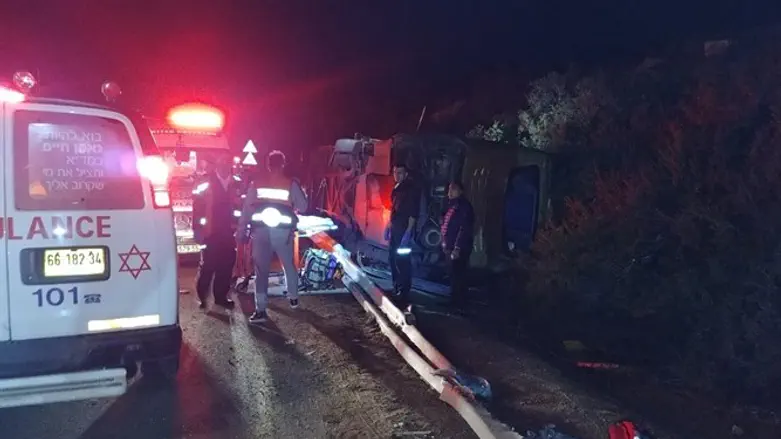 The forgotten American victim of terrorism
It was a time when the term "suicide attack" was unknown. It was also a time when everyone assumed that a terrorist attack had to be carried out with a bomb, or a gun, or a knife.

Thirty years ago this month, that assumption was shattered when an unarmed Palestinian terrorist turned an Israeli civilian passenger bus into a weapon. On July 6, 1989, a terrorist named Abdel Hadi Ghneim boarded a bus from Tel Aviv, headed for Jerusalem. As the bus passed a steep ravine alongside the highway, Ghneim attacked the driver, seized the steering wheel and turned it sharply so that the bus went hurtling into the ravine below.

Fourteen passengers were killed, and many others were injured. 

The attack was deeply shocking to the Israeli public because two aspects of it were so different from what they were used to.

First, it was clear that the terrorist expected to die. He was willing to give his life just so that he could murder Jews. This was different than typical terrorist attacks, where someone would plant a bomb in an Israeli supermarket and then sneak away, or ambush Israeli traffic with sniper fire and then escape before the army or police arrived.

Second, Ghneim had no weapon. He simply took advantage of circumstances that created an opportunity to murder Jews. A security guard checking bags could not have stopped it. A metal detector would not have made a bit of difference. Any Arab terrorist could board any bus without detection and do something similar.

For American friends of Israel, the attack carried an extra measure of pain because the most severely injured passenger was a well known beloved attorney from Philadelphia. For twelve agonizing days, Rita Levine, 39, hovered between life and death, until, on July 18th, she passed away.

Rita was deeply committed to the well-being of Philadelphia's less fortunate residents. At a time when she could have pursued more lucrative employment options, Rita instead chose to devote ten years of her life to working for the Philadelphia Defenders Association, providing legal aid to those who could not afford it. She was also one of the authors of a Pennsylvania law protecting the mentally ill from abuse.

Ned Levine, Rita's supervisor at the Philadelphia Defenders Association, said: "She had one of the most developed senses of justice that I had ever seen. She was against injustice wherever she saw it."


The terrorist, Ghneim, survived. He spent some time in an Israeli prison, and then was set free in a prisoner exchange. Today he lives a free and comfortable life. 

The terrorist, Ghneim, survived. He spent some time in an Israeli prison, and then was set free in a prisoner exchange. Today he lives a free and comfortable life. 

It's important to keep in mind that Ghneim was not some lone wolf. A terrorist organization, Palestinian Islamic Jihad, claimed responsibility for organizing the attack. Those who masterminded the massacre and trained Ghneim have still not been captured.

More than 140 Americans have been murdered by Palestinian terrorists over the years and many of the killers walk freely in the territories controlled by the Palestinian Authority. Some of these terrorists now serve in the PA's police and security forces. There are numerous streets, parks, and summer camps in Palestinian Authority controlled territory that are named after terrorists, including terrorists who murdered Americans. 

What can be done to honor Rita's memory and correct the terrible injustice of her murderers walking free?

Start with the simplest step: offer a reward for information leading to the capture of those who organized the bus attack. The U.S. State Department has a program called "Rewards for Justice," which offers multi-million dollar rewards for information that helps them catch terrorists around the world. The department maintains a website, http://www.rewardsforjustice.net, where an informant can submit a tip by email. There is a toll-free number that tipsters can call. Information about the rewards is printed on posters, leaflets, and even matchbooks that are distributed in the kinds of places where a potential informant might see them. 

The website also features a long list of attacks, going back to 1983, in which Americans were killed and for which rewards are offered. There are photos of many of the victims. But not Rita Levine's photo. She is not mentioned on the State Department's website. The attack in which she was murdered is not listed. No reward is offered to encourage informants to help capture those who organized the attack and trained the attacker. In the State Department's eyes, Rita does not even merit a matchbook.

The "Rewards for Justice" program has proven itself to be an important component of America's war against terrorism. The website has an entire section called "Success Stories" featuring details of numerous cases in which killers of Americans were caught thanks to the rewards program.

One of the best known is Ramzi Ahmed Yousef, mastermind of the February 1993 bombing of the World Trade Center, in New York City, in which six people were killed and more than one thousand wounded. "In February 1995," the web site reports, "an informant, seeing a Rewards for Justice matchbook and motivated by the reward, went to the U.S. Embassy in Islamabad, Pakistan and provided information leading to Yousef's authorities." As a result, Yousef is currently serving multiple sentences of life imprisonment in a federal prison in Colorado.

The cause of justice for Rita Levine should cut across party lines. Everyone in the Jewish community, from left to right, should be able to agree that Rita's killers should be behind bars. It doesn't matter what you think about settlements or refugees or Palestinian statehood—we should all be able to come together to demand justice for a young American Jewish woman whose life was so cruelly and tragically cut short, thirty years ago this week.


Moshe Phillips is national director of Herut North America's U.S. division and is from the Philadelphia area; Herut is an international movement for Zionist pride and education and is dedicated to the ideals of pre-World War Two Zionist leader Ze'ev Jabotinsky. Herut's website is https://herutna.org/
ReplyReply allForward