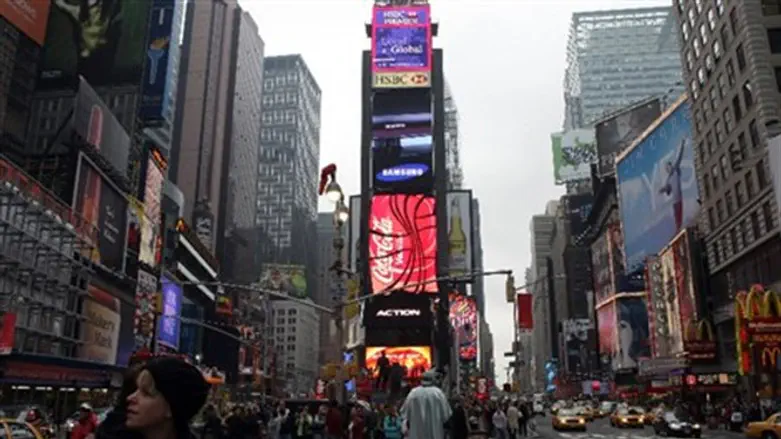 What's really going on in the NYC Council
Councilman Kalman Yeger was removed from the Immigration Committee after making the statement, "Palestine does not exist."
NYC Councilman from Brooklyn Chaim Deutsch has been under a relentless attack for his ALLEGED homophobia by the GayCityNews.
Is it any coincidence that the two yarmulke-wearing elected officials are the targets of attacks?  Wasn't  Yeger's statement factually accurate?  Of course, it was. Isn't alleged tied to "innocent until proven guilty?" 
It's easy to say this is all part of the growing worldwide anti-Semitism.  Of course,  it's part of the hate against Jews and Israel.  But, there is a bigger part to this puzzle that few fully understand or want to admit.  
It has become politically correct to hate.  It has become politically correct for the media to make headlines spreading the hate.  It has become politically correct for elected officials to stand with people like Linda Sarsour and groups like CAIR, even if you happen to be Jewish.  
Why is this happening?  Is it a Jewish "thing"? An anti-Israel issue? Just a religious attack? Is it limited to NYC politics?
Anyone with some common sense knows and understands what's going on, even if they don't want to admit it.
We live in the age of fearing to stand up to radical Islamic leadership.  We see this in our classrooms, in the lessons that are taught.  The curriculum is approved by teacher unions and boards of education.  We allow radical Islamic views to be shared in our jails, so that those incarcerated turn to a new source for guidance.  We see it in our community events held in government owned buildings like libraries and schools.  
We pay for this with our tax dollars.  We support it by voting in candidates, especially from the Democrat Party.  
Meet Councilman Reverend Ruben Diaz
Ruben Diaz is an elected official from the Bronx.  I had the pleasure of meeting him, a Conservative and Democrat, when he hosted an event supporting Senator Ted Cruz for President in April, 2016.
While I don't agree with Diaz on many issues, Diaz represents traditional Judeo-Christian values.  He represents the political official that no longer exists, the ones that work together and respect one another, even from different political parties.  We saw this during the tenures of Hatch-Kennedy, McCain-Lieberman and Moynihan-D'Amato.  I respect his ability to cross party lines, especially today.
He also believes in Judeo-Christian values.  He speaks up, and for that he is questioned.  This week, he stood up for himself.  Here is a letter he sent to Steven Matteo, Chair Committee on Standards and Ethics:
Dear Chairman Steven Matteo:
In the spirit of transparency and accountability, I am requesting that you promptly disclose any and all findings of the NYC Committee on Standards and Ethics' investigation of me.
I want to know whether the New York City Council Standards and Ethics Committee has made any determination which may amount to a threat to my further exercise of my First Amendment Rights of freedom of speech and religion. I will not sit back and be victimized or bullied into submission or silence by what seems to be politically motivated attacks on my credibility.
We all know that in February, an effort was initiated to suppress my First Amendment Rights of Freedom of Speech and Religion by the use of the media and Twitter. This was clearly an attempt to mar my reputation as a duly elected official and to discredit me. We also know that shortly after this media storm, our taxi drivers were punished by Speaker Johnson's decision to lead the Council in a vote to disband the For Hire Vehicles Committee. I believe that my constituents and I deserve to know if your committee has decided to penalize me or dismiss any charges.
As you well know, this is the second time that I have been the subject of an investigation by the New York City Council Standards and Ethics Committee. Last year I was placed under investigation for the use of my NYC Council email account which I used to send regular emails detailing events and political insight that readers might not otherwise be aware of. Never did I use my official New City Council account to request funds or support, but to put the matter to rest, I agreed to forgo using my Council email account and to pay for my own email server. While I personally found this unjust, I believe that it allowed me to remove any distraction from my helping to advocate and legislate for my constituents.
Now, almost two months have passed since this very public matter of the exercise of my First Amendment rights was referred to your Committee. While it was reported that an official meeting about the matter at hand took place privately on March 13, 2019, we still have no information about the results of this meeting.
I expect that without waiting any longer, you will clearly communicate to me the findings, if any, of your investigation.
Sincerely
Councilman Reverend Ruben Diaz
Bravo, Ruben Diaz— defend yourself on your terms!!!!
Jews take a lesson. The methods you are using don't work.  Stop participating in local rallies.  They accomplish nothing.  Several local officials and rabbis speak and then get their pictures in the local Jewish newspapers.  A recent Queens rally had Congressman Gregory Meeks as their guest.  Really, the same Meeks under federal investigation, who refused to attend President Trump's inauguration or attend Bibi Netanyahu's address to Congress in 2015.  He also has a voting record against Israel.   In New York City, a rally was addressed by Reverend Al Sharpton, taxpayer evader and instigator of Black hate in Crown Heights.  He is now challenging 2020 presidential candidates to engage in radical racial pandering, often tying to anti-Semitism.
On March 22nd Jewish organizations connected to UJAs, JCCs and JCRCs, organized prayer ceremonies outside mosques to show our support for our "brothers." I really don't recall many Moslem groups arranging events like this to support Jewish schools, cemeteries and shuls vandalized almost daily.  I might be wrong, but I highly doubt it.
Rabbis, organization leaders, public leaders whose salaries we pay, where are you? You should be working together, regardless of religious affiliation, political views or where you live.  Hate is hate.  It's on the extreme left and on the extreme right.  Two things matter in politics-money and votes.  We must join forces with those like Councilman Diaz,  stop voting foolishly and stop financially supporting those who hate us.  We must call out those that talk the talk but whose actions reflect otherwise.  Many of these phonies are connected to anti-Semites by associating with them on a panel or social media group. Follow where they get money from. Until we are one, expect more Jewish and pro-Israel elected officials to be targets of discrimination.  The New York City Council is just a small local branch of the government.  Remember, Congressman and Senators start somewhere.
On a separate note:  For my many President Trump supporters, I am proud to announce that I am a Co-Chair of a June Birthday Party for the Commander-in-Chief in Washington DC.  This is a closed VIP event featuring many involved in the Trump administration and tied to Trump 2020.  There are a limited number of tickets left.
If you are seriously interested in attending, email me at [email protected].