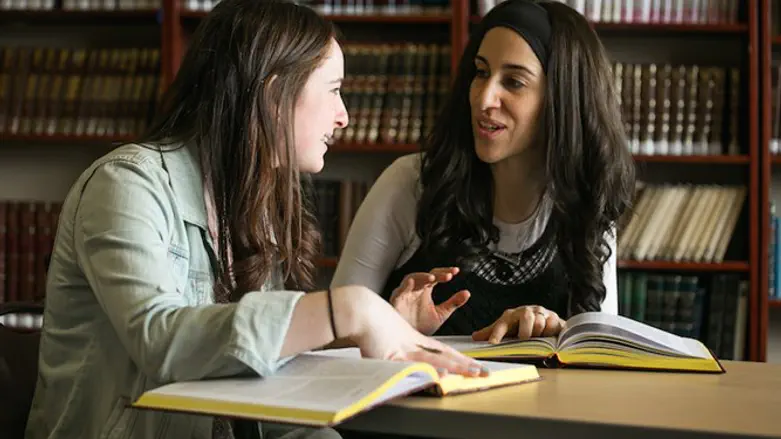 The real Jewish identity
It has occurred to me that most, if not all, of the perennial arguments roiling Jewish life for several decades are the product on one, solitary, substantial and irreconcilable difference in the perception of Jewishness. And it all stems from one verse in the Torah, at the very founding of our nation.
G-d said to us, through Moses (Exodus 6:7): "And I will take you to be My people and I will be a G-d to you." There are two fundamental aspects to the nation of Israel that is often obscured or ignored. We are both a nation and a religion; as Rav Shamshon Hirsch put it, "a religio-nation." We have both an ethnic identity as well as a religious framework. This conflation of religion and ethnicity is by and large unknown in the world.
For example, Christians, Buddhists, Hindus and Muslims each have a unique religious affiliation but by no means would anyone aver that there is an ethnic identity that binds adherents together. Christians from Africa, Asia or South America bear little in common with each other beyond shared beliefs, just like Arab Muslims are different in many ways from non-Arab Muslims. There is no ethnic identity that links them all together.
Not so with the Jewish people, where religion and ethnicity are intertwined, and always has been. It is one reason why Jews have always taken a keen interest in the welfare of Jews wherever they might be, and why Jews are bound by the Torah to see the land of Israel as our homeland even when we hold citizenship elsewhere. National identity is grafted on to our Jewish identity (historically, that has usually been a graft that was eventually rejected) but the Jewish identity remains paramount. We are part of the Jewish nation, which nonetheless should not be construed as inimical to maintaining kinship with our host nation.
It is that phenomenon of the "religio-nation" that has been under assault for most of the last century and to which many Jews no longer subscribe. Too many Jews have bifurcated the Jewish character  into separate ethnic and religious identities, and one attendant consequence has been the controversies that never seem to end.
The clearest example relates to the hoary and by now hackneyed question of "who is a Jew?" Jewish law is clear that a Jew is a person born of a Jewish mother or converted according to Jewish law. But those who perceive Jewishness as defined simply by ethnic identity (i.e., the presence of some Jewish blood in one's ancestry) did not hesitate in embracing patrilineal descent or purely formulaic conversions requiring little more than a declaration of attachment, however tepid, to the Jewish people. Usually, it is for the purpose of marriage rather than the fulfillment of a genuine religious quest. The religious component of Jewish identity – the Torah, the Mitzvot, the obligations that bind us to the G-d who designated us as His people – is a non-factor.
Thus a Jewish sportswriter breathlessly reported the news that June 8, 2018, was a banner day in our history: "Five Jewish baseball players hit home runs in one day," a truly remarkable feat. Except for this: all seem to be the product of intermarriages, three are not Jews according to Jewish law, and, of the two sons of Jewish mothers, neither was raised Jewish. Jewish? Yes, if traces of blood are the only indicia of Jewish identity. There is no sense at all of our founding doctrine: "And I will take you to be My people and I will be a G-d to you." All that matters is an ethnic attachment, and that they had a good day at the plate.
In weightier matters, the ruckus over the recognition of a non-Orthodox presence at the Kotel underscores this dichotomy. Even ignoring the obvious point that Reform Judaism does not grieve over the destruction of the Bet Hamikdash nor prays for its rebuilding, what is most telling is that those who are clamoring for access do not perceive the Kotel as a religious site but as an ethnic, cultural or historical one. It is a relic of Jewish history, a solemn reminder of a bygone era, and even a glorious testimonial to our survival.
But a religious site, requiring faithfulness to the tenets of that religion? Hardly. Permanent access is sought in order to facilitate ethnic rites of passage – like Bar/Bat Mitzvah ceremonies, often devoid of any real religious substance or commitment– rather than as a place to which Jews go to bask in the divine countenance or to sense His presence where it is most felt, in proximity to the Temple Mount and the ruins of the Bet Hamikdash.
It is a mystery why Israelis feel bound to respond to these entreaties, even threats, when they are coming from a place of antagonism to the foundations of the Jewish state. The decline of American Jewish political support for Israel among ethnic Jews is just a symptom of the problem that cannot be rectified by concessions in the religious sphere – Kotel, conversions, institutional support, etc.
Indeed, it is quite telling that divorcing the ethnicity from the religion certainly eradicates the faithfulness to Torah but it also causes the Jewish ethnic identity to attenuate over time. Hence the bizarre but growing phenomenon of Jews who pride themselves as universalists, not particularists, and whose commitment to Jewish life often entails supporting policies that would destroy Israel or obliterate Judaism.
That is to say, the ethnic Jew does not need "Judaism" to remain "Jewish," and will therefore embrace (happily or half-heartedly) cultural aspects of Jewish life stripped of any real Jewish content – e.g., attending Temple on Yom Kippur followed in midday by a treif lunch to "break the fast," or observing both Jewish and Christian holidays in December and April, something that is seen as very ecumenical, open and tolerant.
And it is. It's just not really Jewish. From this perspective, the average ethnic American Jew's support for Israel is understandably waning, as Israel is embarrassing him by defending itself and not further surrendering its land to its enemies.
The Jewish world in both Israel and America has to reckon with this divergence in Jewish identity but in different ways. In Israel there must be recognition that those who assert a purely ethnic Jewish identity weaken the claim of the Jewish people to the land of Israel, which, after all, is based on the Torah and G-d's will. It is exacerbated by the presence in Israel of hundreds of thousands of Israeli citizens who are not halakhic Jews – in other words, classic examples of people with an ethnic but not a religious connection to the Jewish people. The conflation of Jewish and Israeli identity is admirable but misleading; there are many Jews who (sadly) are not Israelis but there are also many Israelis who are not Jews. We blur the difference at our peril.
In America the crisis is even worse. The glorification of ethnic Jewish identity is a Jewish hobby – basking in the achievements of "Jews" of even tenuous association with the Jewish people (athletes, celebrities, public officials) and trying to hide from the ignominious deeds of other such "Jews" of ethnic origin only (such as the miscreants accused of sexual harassment in the last year or so, who have been disproportionately, though of course not all, Jewish).
The greater problem is intermarriage, and the biggest problem with intermarriage is that most American Jews today do not consider it a problem.

The greater problem is intermarriage, and the biggest problem with intermarriage is that most American Jews today do not consider it a problem. And that makes sense – if all Jewishness requires is a biological affiliation with other Jews. By this reasoning, any child of one Jewish parent or grandparent will always have Jewish blood and therefore it shouldn't matter who one marries. And so it doesn't, and so most American Jews intermarry and assimilate.
       The attempt to reach out to these individuals by broadening the Jewish cultural offerings available to them will inevitably fail, as such programs do not conflict with their ethnic Jewish identity; in fact, they reinforce it. The ethnic Jew can also enjoy a bagel, klezmer and even reading the Bible in a totally secular way. But none of that will strengthen the other pillar – the religious component of Jewish identity.
Rav Saadia Gaon wrote almost eleven centuries ago the verity of Jewish identity: "Our nation is a nation only by virtue of the Torah." It is true that there are Jews who embrace the religion but not the national or ethnic attachments that bind us together, but those are really fringe elements. The greater problem is intermarriage, and the biggest problem with intermarriage is that most American Jews today do not consider it a problem.  They might even support the State of Israel but that tribal sentiment is infinitely more difficult to transmit to children when it is detached from Torah; hence the declining support for Israel among the young, many of whom have been educated in multi-cultural, "progressive" environments where such tribalism is anathema and anachronistic.
Hoping people will love Israel when they don't love Torah and mitzvot is a tried and true recipe for failure. So many Jews just don't know what they are missing or what they have abandoned. They have been raised in a heterogeneous environment in which religion is a private matter and ethnicity is the spice of life but not life itself.
The only hope for this remnant of Israel, denizens of free countries, is to expand the teaching of Torah in a positive, loving way but without making it trendy, a slave to newfangled values, a tool of social justice agendas or anything else that detracts from its divine origin. Only then will its voice reach its intended audience, and all of us will strengthen the identity that G-d bestowed upon us at our founding, as not only a nation among nations but as His nation.