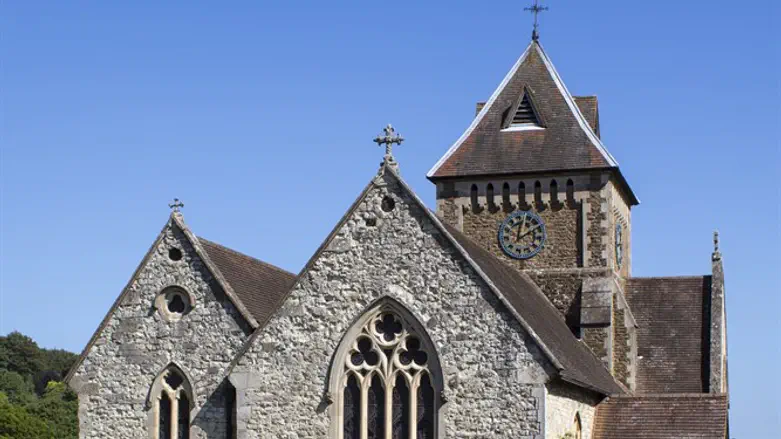 Anti-Israel churches have a new favorite Jew
Stephen M. Flatow, a vice president of the Religious Zionists of America, is an attorney in New Jersey and the father of Alisa Flatow, who was murdered in an Iranian-sponsored Palestinian terrorist attack in 1995.
The badly misnamed organization "Churches for Mid-dle East Peace" has been a thorn in Israel's side for more than three decades. But lately it seems to have found a new weapon: Jews who have adopted Christianity.
Since 1984, Churches for Middle East Peace (CMEP)—a coalition of 27 left-leaning U.S. Christian denominations and church-affiliated organizations—has been denouncing Israel and lobbying in Washington against U.S. aid to the Jewish state. Lately the CMEP leadership has decided that there are not enough women in movements that are critical of Israel. So they're trying to do something about it.
This week, CMEP is holding a conference, at a church in Washington DC, to train women how to harass Israel. The official theme is "And Still We Rise: Transforming U.S. Policy Toward a Just Middle East." By which they mean transforming it from pro-Israel to anti-Israel.
According to the conference materials, women are "too often underrepresented" in "Middle East peacemaking" and therefore need to be "empowered and equipped" to play a greater role in promoting the Palestinian cause. Two days of speakers and discussions will be followed by a day in which the delegates lobby members of Congress to stop being so sympathetic to Israel.
Given the prominent role that Jewish opponents of Israel play in such activities, I guess it's no surprise that fully one-fourth of the speakers at the conference are Israeli and American Jewish radicals. But what I do find surprising—and revealing—is that the speakers include two Jews whose most notable "credential" is that they boast of their Christian beliefs.
The conference brochure lists a total of 28 speakers. There's a representative of the Palestinian Authority, assorted other Palestinian activists, and officials of churches and groups that are part of CMEP, such as the American Friends Service Committee (the Quakers) and the United Church of Christ. They are not among the largest Christian denominations in the United States, but they are considered mainstream by the Christian world, the news media, and government officials. That gives them clout, which is why their activities are so dangerous.
At least one-fourth of the speakers are identifiably Jewish, including Debra Shushan, policy director for Americans for Peace Now; Lara Friedman, who previously was the government relations director for Americans for Peace Now; Chelsey Berlin and Rima Essa extremist Israeli group "B'Tselem"; and Sahar Vardi, an Israeli who works for the Quakers in Jerusalem. At the top of Vardi's agenda is the "demilitarization" of Israel, which in practical terms would mean Israel laying down its weapons while Arab regimes and terrorists hold on to theirs.
Two of the speakers at the Washington conference are women who proclaim that they are Jews who have embraced Christianity.

Two of the speakers at the Washington conference are women who proclaim that they are Jews who have embraced Christianity. One is Lisa Loden, who in her online bio declares that she is "a Messianic Jew living in Israel since 1974," and "co-founded the Messianic congregation Beit Asaph in Netanya." Another, Hedva Haymov, is a U.S. army veteran who announces in her online bio that she "began attending a Messianic Jewish congregation" in 1992 after "she was given a tract on the streets of DC."

Embracing Christianity (or any other religion) is, of course, the equivalent of advocating the extinction of the Jewish people. Is that the kind of "peace" that the Churches for Middle East Peace ultimately hope to attain? If not, why choose such speakers?

Unfortunately, when the Washington conference ends, they'll be taking their anti-Israel show on the road. According to the conference brochure, after the conference, "the Middle East delegates will share about their peacebuilding work on speaking tours around the United States."

It's interesting to note that some major U.S. Jewish organizations which usually place a premium on building relations with such churches are beginning to realize what a dead-end that is. Rabbi Noam Marans, the American Jewish Committee's director of interreligious and intergroup relations has announced that he will not attend this week's annual assembly of the Presbyterian Church USA, as he has done in previous years.

The Presbyterians have "engaged in obsessive, relentless anti-Israel demonization," Marans wrote. "We will not engage with the [Presbyterian General Assembly] farce anymore. Unlike previous years, we will not be present in St. Louis at the assembly…No longer can we participate in a [Presbyterian] drama whose best-case scenario is exaggerated Jewish relief that anti-Israel resolutions are marginally toned down before passage."

Friends of Israel should not lose heart. Conservative and evangelical churches in the United States remain overwhelmingly pro-Israel. Still, there is good reason to be concerned that some liberal Christians, such as those affiliated with Churches for Middle East Peace and the Presbyterian Church USA, have become among the most vocal denouncers of Israel on today's scene, with the active assistance of their preferred kind of Jews—Jews who have become Christians.

-30-