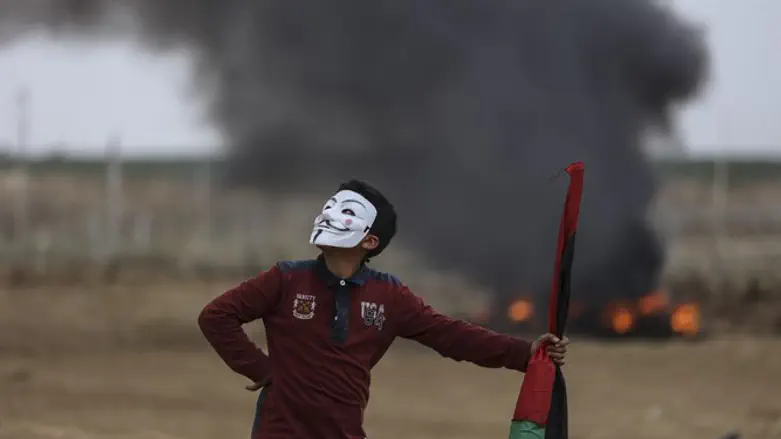 Brooklyn High School in Jewish community honors Hamas
When I announced that anti-Semitism was alive and growing at an alarming rate in the New York Department of Education, people commented that I must have been mistaken.  Boy, have recent events proven me right, unfortunately.

In an fast-growing, alarming trend in NYC public schools, students attending Brooklyn's Midwood High School were recently subjected to lessons in which they were "used" as instruments to advocate terrorism when they were targeted for the distribution of Hamas propaganda claiming to pay tribute to the "Palestinian victims of violence in Gaza."

According to an article from The Clarion Project, " it seems that a large numbers of Midwood students donned the Palestinian black and white chequered keffiyeh on their heads as well as scarves around their necks displaying the colors of the Palestinian flag which were boldly inscribed with the word "Palestine."
The enthusiasm for this event was so great that several teachers complained of students bursting into their classrooms disrupting lessons to obtain the scarves from others who were supplying them. This "tribute" was intended to show support for so-called "peaceful protests" occurring on the Gaza border with Israel which, according to Gaza's Hamas leader Yahya Sinwar, were actually organized as violent riots meant to infiltrate Israel and commit as many acts of murder and kidnapping as possible.

Midwood, Brooklyn, is a community filled with both religious and non-religious Jews. Many residents send their children to yeshivas and private day schools. The high school boasts a high graduation rate.  The principal is Michael McDonnell.

Clarion's article continued to say people were upset.  "I was paralyzed by shock and fear," remarked one teacher. "I simply couldn't believe this was happening at public high school in the United States. My mother is a Holocaust survivor who fled to this country to escape this very same poison which resulted in the murder of our entire family."
Another teacher commented, "I don't believe these students are any more aware of the anti-Semitic canard they're espousing than were the innocent youth recruited by Hitler." Both these teachers have chosen to withhold their names for reasons of personal safety as well as fear of professional reprisal.

A Result of Beacon's Moment Of Silence

After Arutz Sheva printed my article about the Moment of Silence Honoring Hamas last month, multiple organization leaders reached out to me and leaders in New York.  The response was shocking.

The National Council of Young Israel (NCYI) criticized a New York City Department of Education spokesperson for his comments in response to a moment of silence at The Beacon School in Manhattan for Palestinian victims associated with the protests at the border fence separating Gaza from Israel.

In a statement supporting the moment of silence that was reported in several media outlets, Doug Cohen, the Deputy Press Secretary at the NYC Department of Education, had said "We support civic engagement and advocacy amongst students, and encourage schools to provide inclusive environments where students are able to respectfully discuss current events."

"Equating honoring terrorists with 'civic engagement and advocacy' is outrageous, and the fact that the NYC Department of Education's spokesperson made this ridiculous assertion raises questions about the department's policies and procedures relative to activism in NYC public schools," said NCYI President Farley Weiss.

The NCYI, which recently sent a letter to Mayor Bill de Blasio and Schools Chancellor Richard Carranza urging them to take action in the wake of the school's tribute to terrorists, questioned the city's apparent lack of guidelines governing protests in its schools.

"Moving forward, the NYC Department of Education needs a well-defined and clearly articulated protocol for school-sanctioned protests," Weiss said. "The absence of such a policy lends itself to bad decisions and arbitrary determinations such as the one that permitted terrorists to be honored, which forced students to engage in blatant anti-Israel bigotry."

"What if students wanted to honor the terrorists who murdered Taylor Force, a young American who was stabbed in a terrorist attack in Jaffa in 2016?" added Weiss. "Suppose students requested to mimic the moment of silence that was held by the Jordanian Parliament in 2014 for the terrorists who slaughtered four Jewish worshipers and a policeman in a Jerusalem synagogue, or to praise the terrorists who killed two Israeli policemen on the Temple Mount in 2017, as the Jordanian Parliament did? What if students asked to take a page out of the Palestinian Authority's playbook and glorify terrorists who murder innocent people? At what point would the NYC Department of Education refuse to honor a student request to protest in a school?"

"Honoring members of Hamas, which has been designated as a terrorist organization by the United States, crosses the line and is indefensible," Weiss said. "Condoning such a heinous protest and branding it as 'civic engagement and advocacy' is inexcusable and inexplicable, and it behooves the Mayor and Schools Chancellor to duly address Mr. Cohen's comments on behalf of the Education Department and explain how paying to tribute to terrorists is deemed acceptable in New York City schools."

The Coalition of Jewish Values sent the following letter to principal Ruth Lacey on May 29th. It has been ignored:
May 29, 2018
Principal Ruth Lacey
Dear Ms. Lacey:
According to the New York City Department of Educaton, your school is trying "to provide inclusive environments where students are able to respectully discuss current events," and it is for this reason that the school held a moment of silence on behalf of "Palestnians killed in Gaza" — although 85% of those killed were members of the Hamas and Islamic Jihad terror organizatons, as proudly stated by leaders within those groups.
With all due respect, in what other situatons have you held moments of silence for the victms? Are students indeed "learning to engage with the world around them and honor each person's humanity," as claimed in a letter of support signed by parents?
Have you held a moment of silence for students shot in school this year:
• The 17 murdered at the Parkland, Florida Douglas High School in
February
• The 10 gunned down at Santa Fe High School in Santa Fe, Texas earlier
this month
• The students killed, injured and impacted in the 21 other school
shootngs so far this year alone
Have you memorialized domestc victms of terrorism:
• The fourteen ofce workers shot to death at a holiday party in San
Bernardino, California in December, 2015
• The 49 people murdered at a gay nightclub in Orlando, Florida in June,
2016
• The eight pedestrians struck and killed by a terrorist's rented pickup
truck near the World Trade Center
Note: The entire letter is available through the organization.

Sign A Petition

The Zionist Organization of America arranged a petition signing, calling for full accountability by The Beacon School's leadership and their commitment to take the necessary steps to prevent this kind of incident from recurring: 

The Beacon School must revise the procedures for vetting school-wide announcements.  Only bona fide school-wide urgent announcements should be permitted (e.g., relating to a club or activity) – not political expression.
Beacon's Principal must address the entire school-wide community to hear ALL parents' concerns about what occurred on May 15th.
The School's leadership must issue a statement to the Beacon parent community which (a) explains what transpired on May 15th; (2) affirms that the School takes full responsibility for the announcement of the silent tribute; and (3) explains how the School intends to move forward, so that students are afforded a safe environment to discuss their reactions and a fairer and more open forum to discuss such controversial topics in the future.

Education is a nonpartisan issue that needs bipartisan support.
The fight has only just begun.  Please share your information with me at [email protected].