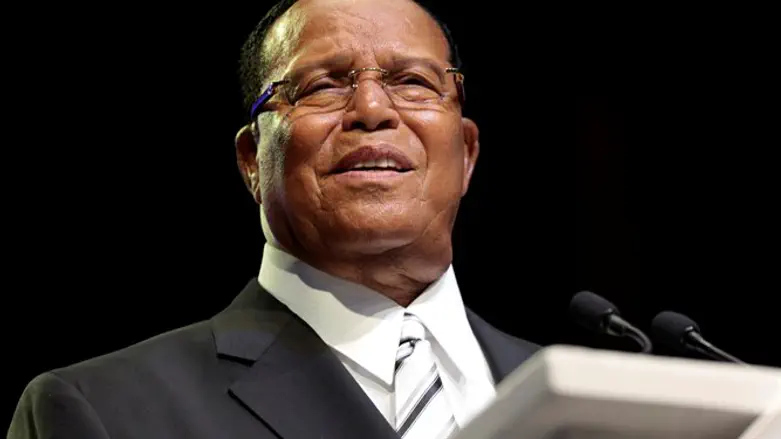 The Farrakhan exception
This is getting to be a habit. Like any habit, we get so used to it, we forget to scratch where it hurts.
So quite recently, and now getting prime attention, Louis Farrakhan held another rally – and there he goes again, blasting the Jewish people. Pure hate speech.
Ordinarily people like that get shunned.
They do, if they speak contrarily about Blacks, gays, transgenders and Muslims – but these are Jews he's talking about, and like I said, it's routine, habit-forming.
This is happening in America? Yes, America, where we expect to "breathe free."
What did we ever do to this guy who leads America's Nation of Islam which draws multitudes…and welcomes Linda Sarsour and Women's March co-chair Tamika D. Mallory?

Or like the prophet Micah has it, a place "where each person can sit under his vine and fig tree, and none shall make us afraid."

As for me, I think it's time to be afraid. If it can happen in America, no place is safe. Farrakhan wants us dead everywhere, including Israel.

Don't wait for me to quote his latest rant. I'll leave that to others, like the New York Daily News where an editorialist properly takes feminists to task for cozying up to Farrakhan. The paper cites leaders of the Women's March who get caught attending his rallies. They show up with no sense of shame and no case of the willies just to be in the same room with that porn hustler.

I cannot think of anything more pornographic than picking a group out of a crowd and shellacking them with hate for no particular reason as it is with Farrakhan and the Jewish people. What did we ever do to this guy who leads America's Nation of Islam which draws multitudes…and welcomes Linda Sarsour and Women's March co-chair Tamika D. Mallory.

Obama's chummy relationship with Farrakhan is a separate story.

Or is Jew hatred singularly fundamental to Islam? We pointed that out earlier about US imams who spew Jew-hatred from their pulpits – with virtual impunity.

Nor are there consequences for Farrakhan. For his loyalists, it's simply Farrakhan being Farrakhan.

Typical, is the worst they'll say of him. He has his good side, they will say.

Yes, and Hitler loved dogs and Mussolini got the trains to run on time…and while we've never managed types like that in the United States, we have raised us a Farrakhan.

What if one day he started talking and nobody showed up? That would be true American Exceptionalism.

His Stagedoor Groupies (some even Jewish) explain that they object to his anti-Semitism—but hey, NOBODY'S PERFECT, as I read their convoluted excuses for tolerating him nevertheless.

Okay, but are hashtag feminists equally prepared to be ever so lenient over sexual predators, since after all, nobody's perfect. Did Matt Lauer have a good side?

Or is it that for Farrakhan there is something else.

Perhaps it's a titillating experience...a turn-on for some of these ladies who object to gender identification except for the thrill of going masculine now and then against the Jews.

Is it a crush? Hardly anything else accounts for the attraction.  

To swoon for Farrakhan is to swoon for a predator. There can be no other term for a bullying anti-Semite.

Somehow the obvious escapes the Liberal Ladies who avow for themselves and their sisters the hashtag Solidarity.

Farrakhan gets away with it because he picked the right group. Imagine a Jewish spiritual leader howling against Muslims or Blacks, "Time's up." Then getting cheered at a rally.

You can't imagine that because there is no such thing. But there was last month at a rally in Chicago when Farrakhan used those words against Jews.

When you hear those thunderous cheers, listen for a train whistling from Chicago towards Auschwitz.

New York-based bestselling American novelist Jack Engelhard writes regularly for Arutz Sheva.

Just released is his augmented HOLLYWOOD EDITION of "News Anchor Sweetheart." Engelhard wrote the international book-to-movie bestseller "Indecent Proposal" and the inside-journalism thriller "The Bathsheba Deadline." He is the recipient of the Ben Hecht Award for Literary Excellence. Website: www.jackengelhard.com