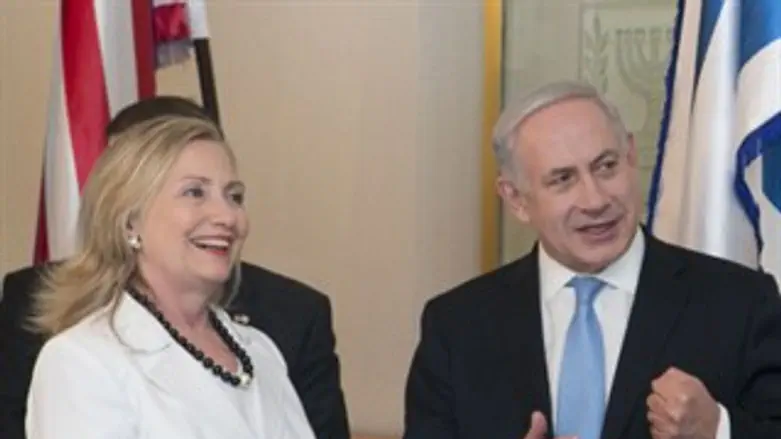 One day's pickings: NY Times ad and Hillary's new advisor
1: A full-page advertisement ran this week in The New York Times endorsing ethnic cleansing.  The ads' headline says "Separation between Israel and the Palestinians is the best solution for resolving the Israeli-Palestinian conflict."
Endorsing evacuating settlements and expelling people from their homes is a racist, anti-peace concept.  These extremists think that Jews can't live in their ancient Jewish homeland and so they incite against Israel? Shouldn't the uber-liberal media be concerned about incitement as this advertisement surely is? What would happen if an ad suggested expelling Arabs from their homes in Judea and Samaria, the biblical heartland of Israel?
2: The New York based Roosevelt Institute is a liberal American think-tank whose mission is "to carry forward the legacy and values of Franklin and Eleanor Roosevelt by developing progressive ideas and bold leadership in the service of restoring America's promise of opportunity for all." Multiple newspapers including the Washington Post have noted that the organization is very closely tied to Hillary Clinton.
Recently joining the board of the organization, after leaving the Jewish Communal Fund is a major New Israel Fund supporter, Karen R. Adler.  Adler signed an open letter to New York's Mayor Bill De Blasio attacking him for aligning with AIPAC, noting "the needs and concerns of many of your constituents–U.S. Jews like us among them–are not aligned with those of AIPAC, and that no, your job is not to do AIPAC's bidding when they call you to do so. AIPAC speaks for Israel's hard-line government and its right-wing supporters, and for them alone; it does not speak for us." 
Adler is a board member of the Israel Policy Forum, a radical organization, that "…helped convince President Obama to adopt its Middle East Roadmap, basically the Saudi Initiative (Israel's return to the 1949 Armistice lines, evacuation of all settlements, and the incorporation of Arab refugees and their descendents into Israel – in return for "normal relations)."  
And Hillary wants some people to believe she will be better to Israel than Obama is?
3: Israel's Prime Minister blames Palestinian Authority leader Mahmoud Abbas for inciting the current violence against Israel – yet says he's willing to meet him anyplace and anytime, as Netanyahu says, at least, that he remains committed to a 2-state solution.  Can anyone see a contradiction?