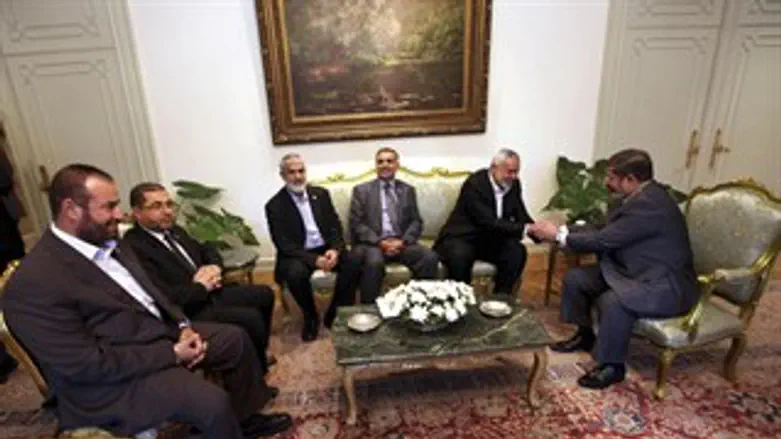 ISM operative Joe Catron aids Hamas Command and Control
The International Solidarity Movement (ISM) has enjoyed free rein due to feckless American government leaders who look the other way as this group assists terrorists from the PFLP, Hamas, Fatah, Al Aksa and any others it can help, with the common goal of destroying Israel.
The ISM is "Palestinian-led" but clearly functions to try and look like an international arm of peace activists helping the Palestinians. In fact, its members act as terrorist enablers for the Palestinian Arabs and in particular for Hamas.
It is illegal for US citizens to aid Hamas.  Yet as this war in Gaza roils on, the ISM has human shields rubbing elbows with Hamas command and control. Of particular note is one Joe Catron, a US citizen.
Catron tries to come off as some starry-eyed anarchist peace activist, but he clearly knows more and in Hamas activities, does more  than a simple radical might do. An interview in a communist party newspaper online reveals Catron's knowledge goes beyond simple demonstrations. The interview can be read here.
In the article Catron discusses movements by Hamas forces against the IDF and other military matters that show he is rubbing elbows with the Hamas leadership for whom he is acting as a human shield.  He is falsely described as a "journalist" and activist at the bottom of the article, but he writes for no reputable journals. He does appear on Iranian propaganda TV occasionally to promote the Iranian smear program against Israel, the US and Jews in general. He could, in fact, be functioning as an Iranian agent.
Israeli and US citizens who read this need to contact the US Embassy in Tel Aviv and demand the FBI field office there put out a warrant for Joe Catron for assisting Hamas. At minimum, he should be arrested and prosecuted on his return to the USA if he ever does return. The mere fact that Catron knows about Hamas troop movements as discussed in the Socialist Worker interview demonstrates he's working with the Hamas leadership in the middle of a war with the U.S.ally, Israel.
It should be noted, as the war drags on, that Hamas is using other internationals as human shields for their command and control leadership. Below is a list of them and their countries and their cell numbers (the cell numbers might be disconnected by this time). Americans and Israelis fed up with Hamas would do well to contact the Foreign embassies of the countries these people are from and demand they be arrested or their passports revoked for aiding a known terrorist group, Hamas, and protecting its leaders. Most, if not all the countries these ISM activists come from also designate Hamas as a terrorist movement.
At any rate, it is known that Joe Catron is violating US law to aid terrorists and he should be stopped.
Below are the names of other ISM Hamas human shields. 
Removing them in this war may in fact shorten the war in Gaza and save lives on both sides.
Here's how to find them:
+972592224699 (ISM) Joseph Catron, USA (English)

+972595594326 Manu Pineda, Spain (Spanish)

+972595251720 Huda Julie Webb-Pullman, Australia and New Zealand (English)

+972595209679 (ISM) Fred Ekblad, Sweden (Swedish/English)

+972598345327 (ISM) Charlie, Sweden (Swedish/English)

+972595827070 Valeria Cortes, Venezuela (Spanish)

+972595176849 Rina Andolini, UK (English)

+972599759394 Collete Lechrien, France (French)
Click here to see Stop the ISM's website.