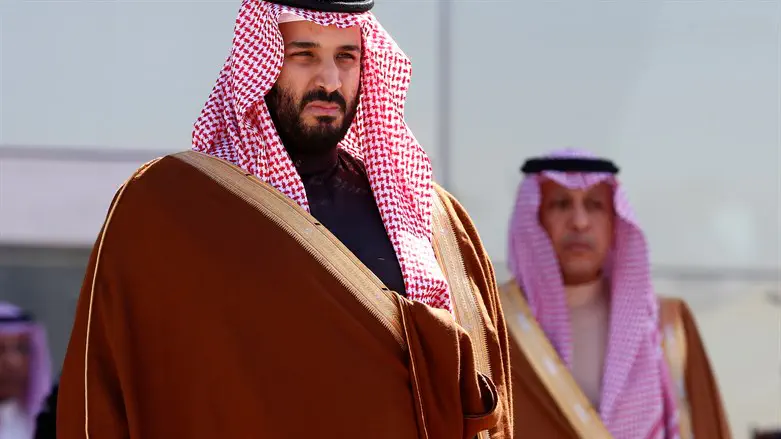 Saudi Crown Prince Mohammed bin Salman
Reuters
A number of senior Israeli security and political figures have visited Saudi Arabia in recent years, Israel Hayom reported Sunday morning.
Visits by Israeli officials to Riyadh have been going on for over a decade, but have always been done in secret, with the exception of former Prime Minister Benjamin Netanyahu's visit to the city of Nemon in November, 2020 where he met with Saudi Crown Prince Mohammed bin Salman.
Netanyahu's meeting was also attended by then-US Secretary of State Mike Pompeo. Netanyahu traveled to Saudi Arabia on a private airplane owned by Israeli businessman Ehud 'Udi' Angel. The majority of visits by Israeli officials to Saudi Arabia were made using private aircraft.
The meeting was organized on the Israeli side by Mossad Chief Yossi Cohen. Former Mossad chiefs Meir Dagan and Tamir Pardo also visited Saudi Arabia during their terms. There were also lower-level meetings between Mossad officials and Saudi officials, in particular officials from the Mossad's 'Tevel division, the division responsible for relations with foreign nations, and especially with countries with which relations are conducted in secret, such as Saudi Arabia.
Senior officials from the IDF and the defense establishment have also visited Saudi Arabia in the last decade. The first and most prominent of them was Benny Gantz, who visited Saudi Arabia during his tenure as IDF chief of staff. Other IDF officials, defense ministry officials, and heads of the National Security Council also visited Riyadh. Representatives of the National Security Council have also held meetings with senior Saudi officials in other countries, mainly in the Gulf and Europe.
These meetings are intended to strengthen security coordination between the countries, which face a number of common threats, the most prominent of which is Iran. Saudi Arabia is frequently attacked by Iranian proxies - such as the Houthis in Yemen, by either missile or drone attacks. Iran was also directly responsible for the drone attack on the oil processing facilities of the Saudi company Aramco in September, 2019.
During the 2010s, Israel helped Saudi Arabia prepare for and cope with the threat posed by the then-new ISIS terrorist organization, which threatened the stability of Sunni regimes throughout the Middle East. Saudi Arabia was the only country in the Gulf that did not have some form of relations with the Israel at the time, as Israel had secret relations with the United Arab Emirates and Bahrain long before the signing of the Abraham Accords in 2020, as well as many other nations that have not chosen to join the accords.