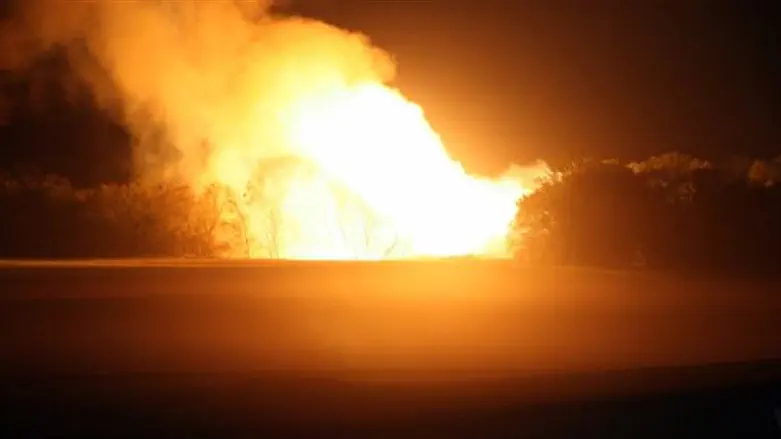 Gas pipeline explosion (illustration)
Flash 90
Suspected Islamic State (ISIS) jihadists blew up a natural gas pipeline on Saturday in Egypt's restive northern part of the Sinai Peninsula, causing a fire but no casualties, security officials said, according to The Associated Press.
The officials said the suspected terrorists planted explosives under a pipeline in the town of Bir al-Abd.
The expulsion sent thick flames of fire shooting into the sky, and authorities stopped the flow of gas to extinguish the fire, said eyewitnesses.
Despite the statements of the officials, who spoke on condition of anonymity, ISIS has not officially claimed the attack.
The gas pipeline in the Sinai Peninsula has been attacked dozens of times since the 2011 ouster of former Egyptian President Hosni Mubarak. Some of those attacks have been claimed by ISIS, including one in late 2020.
Egypt has been fighting an insurgency in the Sinai Peninsula for several years, which at times has spilled over into other parts of the country. Most of the attacks during this time period have been claimed by the Sinai Province, the ISIS affiliate in Egypt.
The country was under a state of emergency starting April of 2018, after two suicide bombings at churches claimed by ISIS killed at least 45 people in the cities of Tanta and Alexandria.
Egyptian President Abdel Fattah Al-Sisi announced in October the lifting of the state of emergency.