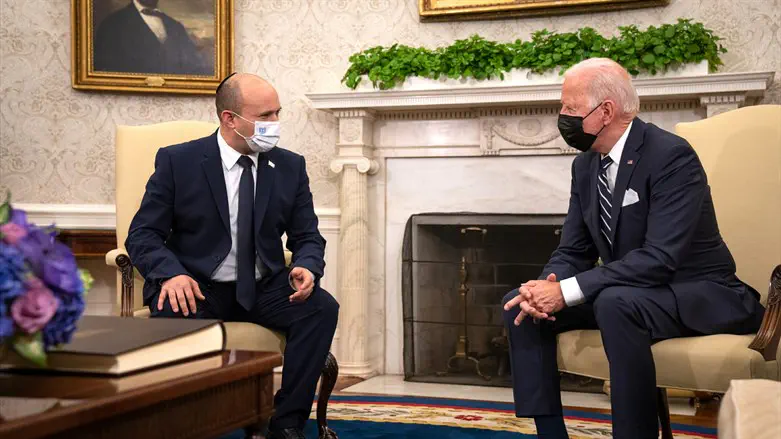 Biden and Bennett
צילום: רויטרס
Israeli Prime Minister Naftali Bennett spoke with President Joe Biden by phone Sunday, the Prime Minister's Office said Sunday evening.
According to the statement, Bennett wished the president a happy Easter Sunday, before turning to Arab violence in Jerusalem, and Israeli efforts to quell the rioting.
The two also discussed Iran's nuclear program and efforts by the US and other Western powers to restore the Iran nuclear deal, in particular Tehran's demand that the Revolutionary Guards Corps be dropped from the US terrorist blacklist.
Bennett stressed Israel's strident opposition to such a move, saying: "I am certain that Biden, a true friend of Israel, who cares for its security, would not allow the Iranian Revolutionary Guards Corps to be removed from the terror list. Israel has made its position on the matter clear: the Revolutionary Guards Corps is the world's largest terrorist organization."
During the call, Biden said that in response to Bennett's invitation, he is planning a trip to Israel in the coming months.
The White House said in a statement that the two leaders discussed "shared regional and global security challenges, including the threat posed by Iran and its proxies".
"The two leaders emphasized the strong personal bond they have developed since the Prime Minister's visit to Washington last summer. This personal relationship has animated the work of our diplomatic and national security teams, enabling both countries to arrive at common positions on difficult matters."
"The President welcomed the visit to Washington this week by the Prime Minister's National Security Advisor. The President also accepted an invitation to visit Israel in the coming months. The President took note of ongoing efforts between Israeli and Palestinian officials to lower tensions and ensure a peaceful conclusion to the holy season of Ramadan."
Biden also touted the $1 billion allocation to replenish Israel's Iron Dome system.