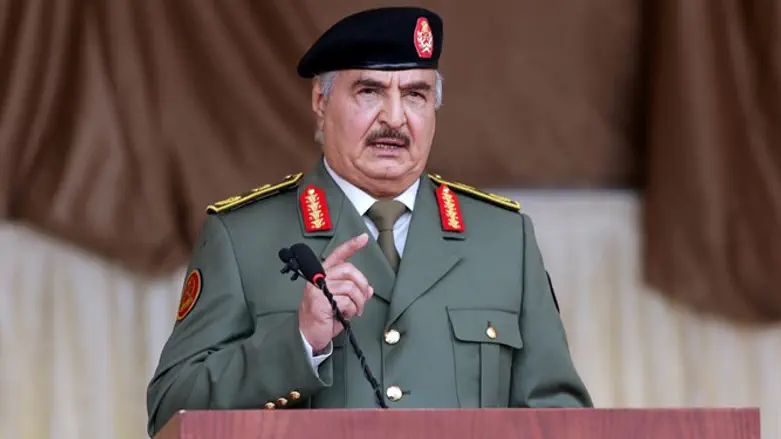 Libyan military commander Khalifa Haftar
REUTERS/Esam Omran Al-Fetori
Following the United Arab Emirates, Bahrain, Morocco and Sudan, Libya may be the next in line to make peace with Israel and join the Abraham Accords, Israel Hayom reported.
According to Israel Hayom, the political camps in the north African country, which has suffered two brutal civil wars over the past decade, are preparing for a highly-charged election campaign that will determine Libya's future.
According to senior Libyan officials with close ties to the leading presidential candidate, General Khalifa Haftar, it appears the large Arab country is moving toward normalization with Israel. Haftar has recently voiced his desire on several occasions to normalize ties with Israel, and declared he would work towards that end if he is elected president on December 24.
Israel Hayom reported in late October that an Israeli consulting firm was advising both Haftar and his main rival, Saif al-Islam Gaddafi, the son of the former tyrant Muammar Gaddafi, who was deposed and killed in a violent uprising 10 years ago.
Haftar, who has also earmarked a senior role in the next government for his son, Saddam, if he wins the election, has the support of the US, Egypt, Saudi Arabia and other Western actors, but he has apparently pinned a great deal of hope on relations with Israel.
"Only a normalization agreement with Israel, which will bring Libya into the Abraham Accords, can catalyze Libya's rehabilitation plan, which stands at hundreds of billions of dollars," Haftar has reportedly told his confidantes.