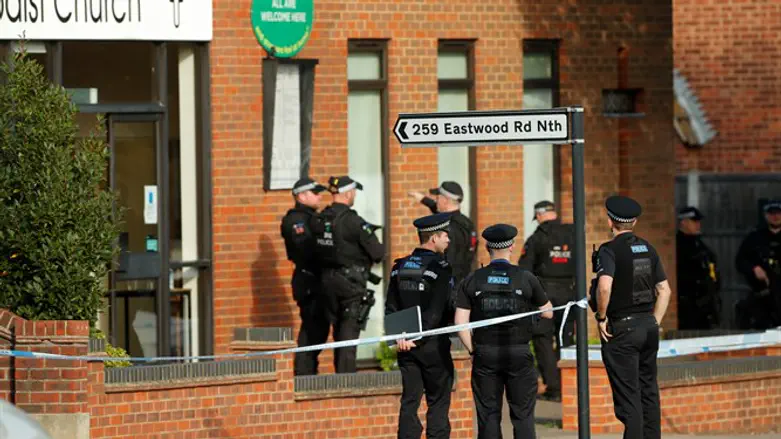 British MP David Amess stabbed during constituency surgery in Leigh-on-Sea
REUTERS/Andrew Couldridge
On Friday, UK Prime Minister Boris Johnson paid tribute to longtime MP David Amess who was killed earlier in the day after being stabbed multiple times at a constituency meeting in East London.
Johnson said that Amess was murdered after "almost 40 years of continuous service to the people of Essex and the whole of the United Kingdom."
"The reason people are so shocked and sad is above all he was one of the kindest, nicest, most gentle people in politics," Johnson said. "He also had an outstanding record of passing laws to help the most vulnerable."
The Prime Minister said that said the country had lost "a fine public servant and a much loved friend."
"I think all our hearts are full of shock and sadness today," Johnson said.
He described Amess as a "man who believed passionately in this country and in its future."
"Our thoughts are very much today with his wife his children and his family," Johnson said.
Cabinet ministers said they were "devastated" by the death of Amess, according to media reports.
A 25-year old man was arrested on suspicion of murder after armed police charged into the church where the meeting was taking place. A knife was found at the scene, reported Reuters.
"[Amess] was treated by emergency services but, sadly, died at the scene," Essex police said.
The 69-year old politician, who represented Southend West in Essex, was stabbed at approximately noon by a man who walked into the meeting in the Belfairs Methodist Church.
UK Prime Minister Boris Johnson, has returned to his official residence from a cabinet meeting following Amess's murder, PA Media reported. Johnson is expected to speak shortly.
Parliamentary flags have been lowered to half mast.
Southend councillor John Lamb was at the scene of the stabbing. He told BBC News that Amess had not been airlifted to the hospital, but was operated on by medics at the scene of the incident.
"He's always trying to help people, and especially refugees he's tried to help. He's a very amicable person and he does stick by his guns, he says what he believes and he sticks by it," Mr Lamb said.
An air ambulance landed after the stabbing but Amess was declared dead at the scene despite emergency services attempting to save his life.
"A 25-year old man was quickly arrested after officers arrived at the scene on suspicion of murder and a knife was recovered. He is currently in custody. We are not looking for anyone else in connection with this incident," said Essex Police in a statement.
Forensic officers are continuing to comb the scene for evidence, Sky News reported.
Police are looking for surveillance footage, including nearby doorbell camera footage.
Johnson's wife Carrie Johnson tweeted: "Absolutely devastating news about Sir David Amess. He was hugely kind and good. An enormous animal lover and a true gent. This is so completely unjust. Thoughts are with his wife and their children."
She added: "Thoughts with Cathy, his children and all his family and friends. Such a decent man. Incredibly sad."
Former UK Prime Minister David Cameron said: "This is the most devastating, horrific and tragic news. David Amess was a kind and thoroughly decent man and he was the most committed MP you could ever hope to meet. Words cannot adequately express the horror of what has happened today. Right now, my heart goes out to David's family."

Cameron said his "thoughts and prayers are with Sir David Amess and his family."
"This is awful beyond words. My thoughts and deepest condolences are with David's family, friends and colleagues. May he rest in peace," said Nicola Sturgeon, First Minister of Scotland.
London Mayor Sadiq Khan said he was "deeply, deeply saddened by the tragic news that Sir David has passed away."
"He loved being an MP and was a great public servant," Khan said. "It is just awful. My thoughts and prayers, and those of all Londoners, are with David's loved ones at this time of unimaginable grief."
Johnson was described by British media as monitoring the situation and was expected to speak later on Friday. Home Secretary Priti Patel was also expected to make a statement to the press.
Amess was described as a "community champion" who frequently met face-to-face with constituents, and was described by those who knew him as a "champion for his constituency."
During his over 30-year political career, Amess was known for working for a number of causes, including animal welfare, endometriosis, and a long running campaign to have a statue erected in honor of Raoul Wallenberg, the Swedish diplomat who saved tens of thousands of Hungarian Jews during the Holocaust.
Essex Police are treating the fatal attack as a murder inquiry.
There are no other suspects, according to Reuters.
Amess is the second sitting MP to be killed in recent years. Labour MP Jo Cox was murdered in June 2016.
There is now expected to be a renewed debate in the UK about the security of MPs at constituency meetings, and how MPs deal with meeting constituents in person.