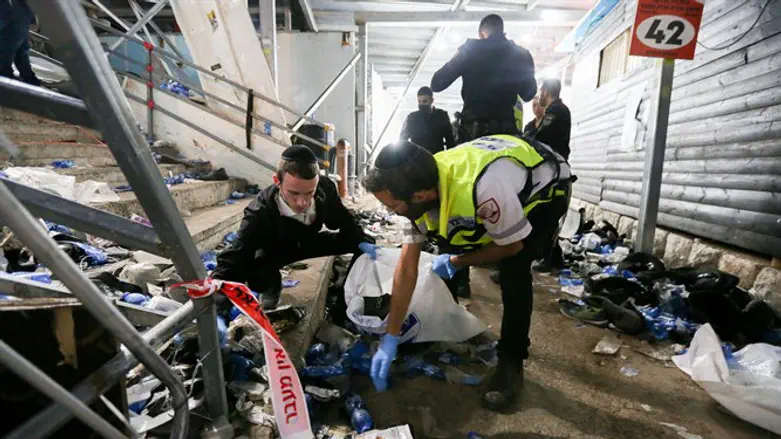 אסון במירון
צילום: David Cohen/Flash90
How many casualties has this past year claimed?
This was a year wrought with disasters. Whether it was Meron, Miami, or the plane crash in Ukraine, this year brought heartbreaking tragedies that left children crying for parents who never came home. That left little children who barely know how to speak to recite kaddish (mourner's prayer) all alone in synagogue.
We are now entering an essentially important part of our year: The 40 days between the start of the Jewish month of Elul and Yom Kippur. In this time we push ourselves to do better and plead for G-d to forgive us for our mistakes and to renew us for the year to come.
R' Chaim Kanievsky and other massive Rabbinical leaders will be travelling to 6 of the holiest places in the world: The Western Wall, the tomb of Rachel, Meron, Amukah, the grave of Reb Yehuda Bar Ilai, and the grave of the Isha Shunamis.
For 40 days these great men will stand at each of these tremendously holy, powerful, and historic sites, and cry out to G-d on behalf of the Jewish People. They will have lists in their hands - lists with the names of all those who donate to help Israel's most impoverished families.
Behind this cause are Torah giants: Rav' Chaim Kanievsky, R' Boruch Mordechai Ezrachi, R' Chaim Feinstein, R' Binyamin Finkel, the Biala Rebbe, and the Rachmastrivka Rebbe.
They extend their blessing to all those who give here to help the many poor people of Israel whose lives have been affected by this year's many tragedies.
These days are crucial - make the most of your preparation for Yom Kippur by giving charity to this urgent & worthy cause, and have your family in the prayers at Israel's holiest sites, together with the blessing of the greatest Rabbis of our generation. This is how you can end the year right.