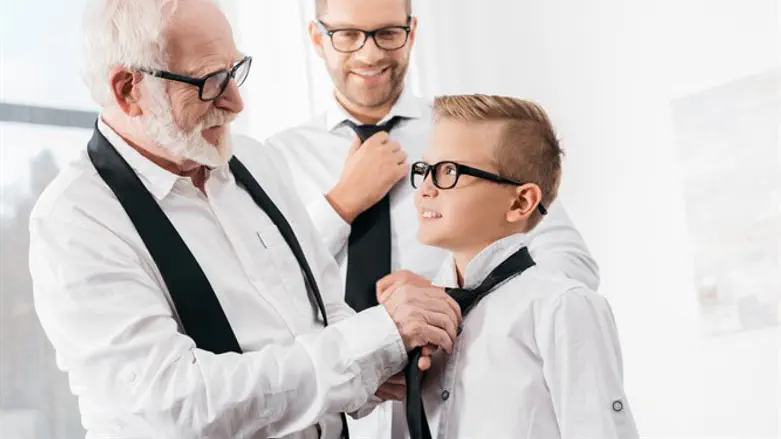 Gifts to Get Dad This Holiday Season
צילום: Depositphotos
The holidays are peeking around the corner, inching closer one day at a time. Surprising Dad this season with the best gifts would make him feel as special as he is. You probably feel as though you've gotten him everything he could want by now.
After all, dads aren't the neediest and often are simple to please when it comes to gift-giving. If not the blender to encourage health or your standard tool kit, then what? Deep down, dads do have a list of their own.
More often than not, the list is made up of items to either add convenience to their life or spark a little fun to knock the edge off the day-to-day work life. Here are thirteen gift ideas to get Dad this holiday season that he'll never forget.
1. Classic Rock Vinyl Records
The best thing you could ever do for your dad this holiday season is to allow him to reconnect with music from the past. Chances are, classic rock may have been a part of his life in some way, shape, or form. Maybe as a kid or a teen making it through high school-- music was there during a time that made him the great person he is today.
With a record of his own, Dad can relive those years instead of waiting for songs on the radio with interrupting commercials. Even better, he can start up his collection. Who knows? Over the years it might be worth something. With classic rock vinyl records, he'll be able to set the mood and tap into his passion project, or simply enjoy the aesthetic of disengaging from the digital world to enjoy his vintage groove sense. It'll certainly be worth it, and you might even get a funny concert story out of it.
2. Golf Attire
There's nothing like having a calm and fulfilled dad this holiday season as he plots away from his summer activities, including his favorite sports. You might have heard him complain once or twice about being too busy to get back out on the course and as much as he'd like to, so why not consider golf attire. Selecting the right golf attire could help him to make the move. The great game of precision and relaxation is best played with proper gear; comfortable Polos, shorts, or even motion vests will not only upgrade his wardrobe but also provide something to look forward to when dreaming about the perfect pitch shot. He'll have you to thank when he finally gets back at it.
3. SkyFloat
Whether he's working from home or heading out to the office, more and more accessories are surprisingly making a difference when it comes to comfort, organization, and productivity. The Skyfloat covers it all with its simple setup and overall design to eliminate long periods of sitting. With tablets, company phones, and personal phones, it can get overwhelming having all these devices stored in bags, hip pockets, or taking up space on the desk when it's meant to feel spacious. A magnetic mount that holds a device from the ceiling enjoyably induces a better workflow merely out of comfort. With a gift like this, your dad will hug you all year long.
4. Healthy Food
While health being a trend in and of itself, it can be an overwhelming ocean of options between diets and harmful myth-busting facts on the foods we all love and grew up on. Some places are making it so simple that eating healthy is a treat. For example, Uprising Food is a subscription-based food service providing mindfully prepared foods, changing the stigma between cost and healthy eating while committing to competitive angles on ingredients that make up their products. Healthy food-- the gift that keeps giving.
5. Hammocks
There's something special about the good ol' outdoors. It's rewarding in many ways, refreshing, rejuvenating, and more importantly, it can bring families together. That's why hammocks can be a great gift for dad this holiday season, but choosing a hammock can be tricky when it comes to comfort, size, and other specs. Here are a few things you might want to keep in mind when selecting the right hammock.
Size: single vs double
Length
Fabric
Accessories: bug netting, rain tarp, etc.
Durability
1.American Flag
Whether a veteran or a man full of pride and passion for their country, an American flag is a perfect gift for dad this holiday season. Over time, due to various and extreme weather conditions all year round, flags tend to fall short because of damage. They lose the quality they once possessed, but fear not, finding American flags for sale is easy to come by. The best ones are hand-stitched, providing jobs within the country.
6. Jewelry
Jewelry never gets old and is often symbolically rewarded for one's hard work-- like a trophy for doing a fine job thus far. Whether it may be a watch, necklace, or ring when adding to a father's jewelry collection, there's no surprise it'll stand out from the rest due to sentimental value. Even as a first-time jewelry owner, men's jewelry online can provide conversational pieces, leaving fathers proud and feeling special.
7. Face Serums
After a nice shave, it is important to start a moisturizing process for the skin. There are many things out there (perhaps something you may own right now) being used and unwantedly making the skin worse or not helping at all when it comes to promoting healthy skin. Believe it or not, dads do care about their skin. When presented with something like Caldera + Lab skin products, Dad will be using profound, natural ingredients best primarily for the skin, backed up with intriguing research and impressive testimonies. You'll be able to restock him year after year.
8. Air Fryer
Cooking utensils will make anyone happy by granting more convenience in the kitchen, but an air fryer beats all other options with its diverse settings and capabilities. If Dad is looking for a transition from the greasy menu to something a little more clean yet still crispy, air fryers are the way to go. A gift like this is around for the long run providing a healthier alternative while feeding not just Dad himself, but the whole family as well.
9. Pet Canvas
We all love our pets very much. So much so we'll sometimes do ridiculous things just to reassure that love as well as present it to others. If this reminds you of your dad and his best pet friend, consider "The Colonel" custom pet canvas as a gift that will give Dad a loving laugh he'd be proud of. Unique in its own right, a portrait of a pet is one thing and quite common, but a painting of a pet companion in a colonel outfit is at first unimaginable, then unforgettable, and without a doubt an original present to receive.
10. Go Sledding
No matter how old you are, the rush of sledding in the snow is a magical experience and will always take you back to the good ol' days. Saddling up the family and finding a tubing park would be the perfect gift to set up for Dad this season. Buying objects can be sentimental and warm, but moments with the family and spending time together is the gift of creating memorable experiences that go down in history.
11. Workout Equipment
Physical fitness is an essential activity in life, and dads are well aware of it whether they've been involved in it all their lives or just getting started. No matter where they are in their workout journey, there is equipment far less intimidating and convenient to own. Consider the Gorilla Bow, a clever piece of equipment designed for the best muscular resistance by resulting in full-body toning. The beauty of this gift is that it can be bought anywhere and provides the best results.
12. Drinks
Drinks as a gift is a tradition known throughout many cultures, from wines to fresh spring waters, but one drink that'll be worth Dad's attention is Tepache, a refreshing beverage made from fermented pineapples as a remedy in the Mexican culture dating back hundreds of years ago. Healing, hoppy, and thirst-quenching, such a gift can land in the fridge daily.
Which One Will It Be?
With many options narrowed down to the best possible, it shouldn't be too difficult to make your dad proud this holiday season. By showing him how much he truly means to you, a thoughtful gift is most certainly the best gift. Whatever it may be in the end, it will be well worth it.