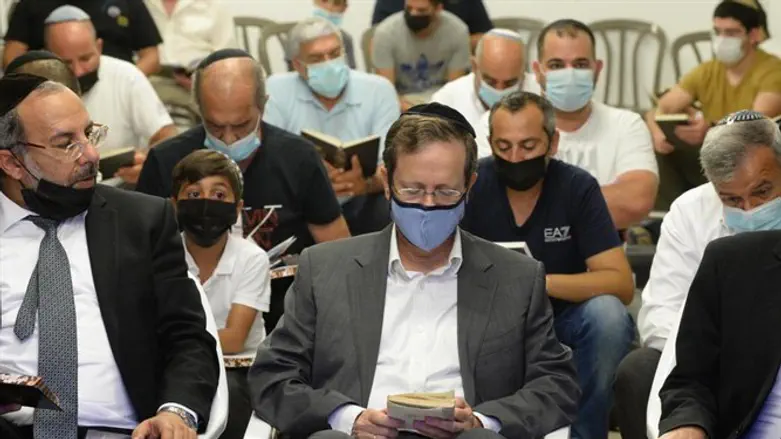 Herzog at reading of Book of Lamentations
Mark Neyman/GPO
President Isaac Herzog participated on Saturday night in a reading of the Book of Lamentations on Tisha B'Av.
The reading took place in a synagogue in Ashkelon and was held outside due to the COVID-19 restrictions.
The visit was a show of solidarity with the residents of the communities located near the border with the Gaza Strip and the communities in the south and their steadfastness during Operation Guardian of the Walls.
"A few weeks ago this area absorbed hundreds of missiles and was the national front of the State of Israel. You are a source of immense national pride and I come to say thank you on behalf of the entire Israeli people. May we know no more sorrow in this place and in the entire State of Israel," said Herzog.
"We are on the eve of Tisha B'Av and symbolically I opened my speech with a threat to the State of Israel, in order to put things in proportion and say that there are things that require us to remember that our enemies have not left the world, we must always remain united and learn the lesson of the destruction of the Temple so that God forbid the same reasons that led to the destruction of the Temple will not strike us again at this time. During the third sovereignty of the Jewish people in his country, it is not a trivial matter."
At the conclusion of his speech, the President said: "As it is said in this beautiful book, 'She weeps bitterly in the night and her tears are on her cheeks, she has no consolation from all her lovers.' We must learn that, God forbid, history may repeat itself if we do not know how to maintain our unity. One can argue, one can maintain differences, that is part of the beauty of Israeli society. As I said in my inaugural speech, we must overcome the fear and reach out to each other and instill love of Israel in all hearts. I wish that we all learn this lesson."