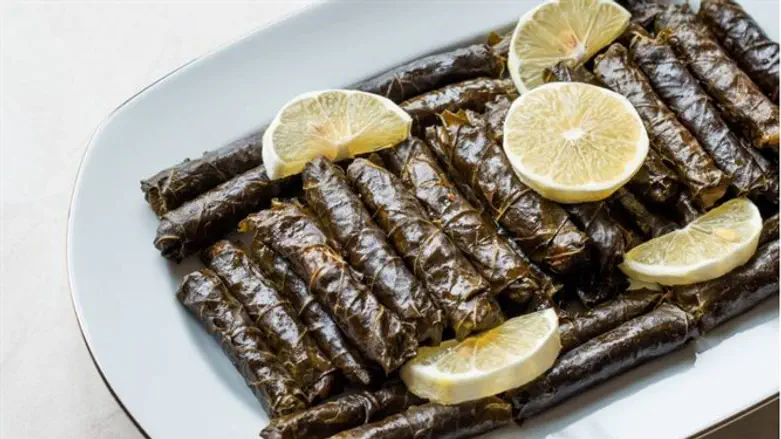 Yebra (Stuffed Grape Leaves) with Apricots
Jacqueline Elbaz / Kosher.com
Ingredients:
40 stuffed grape leaves (recipe follows)
1/3 cup tamarind paste
juice of 2–3 lemons
salt, to taste
2 cups Turkish apricots, soaked in warm water for 10-15 minutes
1 tablespoon Tuscanini Olive Oil
Stuffed Grape Leaves:
1–1 and 1/2 pounds chopped meat (can use chicken or turkey)
1 cup uncooked rice, soaked in warm water for 15 minutes
salt
pepper
allspice
1 jar of grape leaves (I use Orlando)
Prepare the Stuffed Grape Leaves:
Drain the leaves.
Under running water, separate each leaf, cutting the stem. Rinse and drain the rice in a colander.
In a bowl, mix chopped meat with rice and spices. Place a grape leaf facing down on flat surface, veined side up. Place one to two teaspoons of meat in the middle , fold in the sides, and roll upwards like a cigar or egg roll.
Freeze on a lined tray; it's best to cook when frozen. Freeze up to four months.
Prepare the Yebra:
Place half the apricots in the bottom of a pot.
Drizzle with two tablespoons tamarind paste and juice of one lemon. Top with grape leaves. Cover tightly then cook on a simmer for 15-20 minutes.
Cover with the rest of the apricots and the remaining tamarind, lemon, and olive oil. Add some water until covered but not submerged. Use either a glass plate (old way trick!) or a small pot cover so as not to let the grape leaves open. Cook low and slow on a low flame for at least 45 minutes…the longer it cooks, the better! Rule of thumb, Syrian food tastes better the next day! This freezes gorgeous!