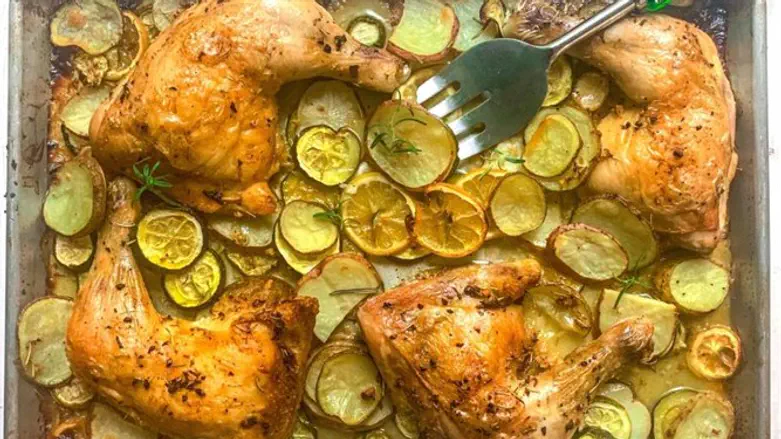 Lemony Sheet Pan Chicken Dinner
Molly Hagler / Kosher.com
Ingredients:
4 chicken bottoms
3 potatoes, sliced into thin circles
2 zucchini, sliced into thin circles
1 lemon, sliced into thin circles
1/4 cup oil
juice of 1 lemon (or about 3 tablespoons Heaven & Earth Lemon Juice)
1 teaspoon dried rosemary
1 teaspoon salt
1/2 teaspoon pepper
7 cloves garlic, minced or 7 cubes Gefen Frozen Garlic
Prepare the Lemony Sheet Pan Chicken Dinner
Preheat oven to 425 degrees Fahrenheit and spray a sheet pan with nonstick spray.
Place potatoes and zucchini on sheet pan. Make little spaces for the chicken by moving aside the potatoes and zucchini. Place the chicken in those spaces.
Mix together the oil, lemon, rosemary, salt, pepper, and garlic. Drizzle over chicken, potatoes, and zucchini. Add the lemon slices.
Cook uncovered at 425 degrees Fahrenheit for one hour.