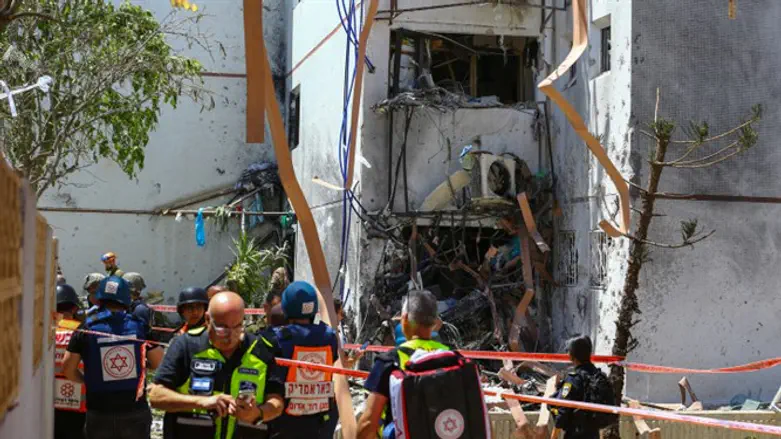 Home in Ashdod hit by rocket, May 17th 2021
Flash90
Terrorists in the Hamas-ruled Gaza Strip launched dozens of rockets at southern Israel Tuesday afternoon, ending a six-hour lull in the fighting which began last Monday.
The first three rockets fired were launched towards the town of Ofakim and the Merhavim Regional Council in southwestern Israel, and were intercepted and destroyed by missiles launched from Israel's Iron Dome defense network. No damage or injuries were reported in the initial rocket attacks.
Subsequent barrages targeted Netiv Hasarah, Zikim, and the city of Ashkelon.
A 19-year-old IDF soldier was injured by shrapnel after a rocket fired from Gaza landed near the Erez Crossing along the Israel-Gaza frontier.
The soldier was treated at the scene by MDA paramedics before being evacuated to Barzilai Medical Center in light condition.
Later barrages on southern Israel left 10 people injured, including a number of workers at a packaging factory in the Eshkol region near the Gaza frontier.
Of those, one foreign worker was rushed to the hospital in critical condition, with three more in serious condition.
Two of the victims later succumbed to their injuries. One was declared dead at the scene, the other after hospital.
Chapter Head of the Gaza Periphery Chapter for United Hatzalah Danny Shmuel who was one of the first responders at the scene relayed: "Sadly, one of the workers in the packaging plant was pronounced dead after he was found without any signs of life at the scene as a result of the rocket's impact. When I arrived at the plant with a first-aid all-terrain-vehicle (ATV), I was able to treat other people who sustained injuries in the blast, some of them serious injuries. Among them were people suffering from shock."
IDF forces eliminated a terrorist cell in the southern Gaza Strip city of Khan Yunis Tuesday.
According to an army spokesperson, the Hamas cell was armed with anti-tank missiles.
In addition, the IDF said that it struck the homes of 12 senior Hamas terrorist leaders.
Three other terrorist homes, which were also used for military purposes, were also struck.
Earlier on Tuesday, the IDF announced that since the beginning of Operation Guardian of the Walls, it has eliminated roughly 160 terrorists in Gaza.
Of those, 120 were affiliated with Hamas, and another 40 with Islamic Jihad.
The IDF also said that it destroyed 9.4 miles (15 kilometers) of terror tunnels built by Hamas in its massive "metro" tunnel network.
"Overnight, we destroyed about 15 kilometers of the fourth section of the Hamas 'metro', though we still have a great deal of work left in the tunnels in Khan Yunis and Rafiah."
Sixty Israel Air Force aircraft pummeled terrorist targets in the southern Gaza Strip overnight, destroying 65 rocket launchers in Khan Yunis. The launchers, an IDF spokesperson said, were capable of launching between six to nine rockets at a time.